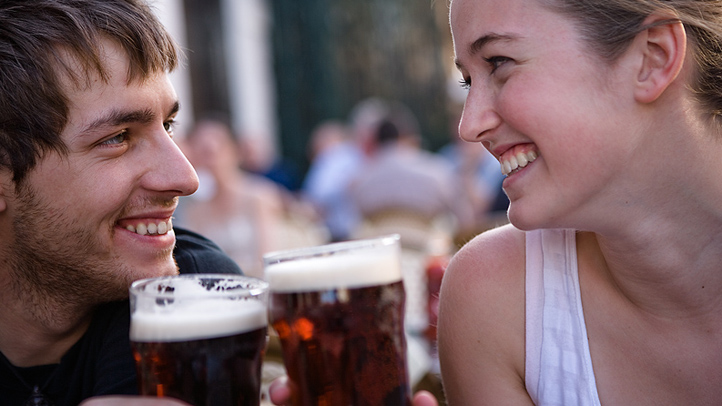 San Diegans, welcome to the first weekend in October. It's time to enjoy some fall festivals and fun for the whole family.

Friday, Oct. 5

Undersea Film Exhibition
7 p.m. at Irwin M. Jacobs Qualcomm Hall
View some of wildlife's most colorful creatures at the Undersea Film Exhibition this weekend. Kicking off on Friday are more than a dozen short films highlighting underwater. It's perfect for the ocean-obsessed person in your life. Tickets cost $15 and a portion of the proceeds will go to Birch Aquarium at Scripps.

Fall for Arts
5 to 10 p.m. at Liberty Station
Is fall making you feel artsy? Well after this event, it will. Free open artist studio and galleries will be available for viewing at Fall for Arts, which kicks off a month dedicated to culture in San Diego. Make sure to bring the kids, as there's a puppet show, children's book art and eats from various food trucks. The event is free and open to everyone.

Saturday, Oct. 6

Pacific Beachfest
11 a.m. to 6 p.m. at Crystal Pier
You might want to retreat to the coast for a free event in Pacific Beach on Saturday. After all, with promises of live music, fish taco challenges and a craft beer garden the Pacific Beachfest sounds like it will be more than a good time. The Kids in Action Alley will have activities for the youngsters, too, so feel free to bring the whole family.

Taste of North Park
11 a.m. to 4 p.m. at various locations in North Park
Try the best foods this hipster neighborhood has to offer during the Taste of North Park on Saturday. Stroll around University Avenue and 30th Street for some great grub. Art will also be displayed throughout the area, so it's a pleasure for both your eyes and taste buds. Tickets cost $35 at the door.

The Exit Interview
6 p.m. at The Lyceum Space
Take a cultural adventure this weekend by catching a show of "The Exit Interview" by the San Diego REPertory Theatre. The modern-day satirical tale is likely to provide laughs and interesting conversation starters. Tickets start at $31 and there are various shows throughout the month.

Sunday, Oct. 7

Old Town Art Festival
10 a.m. to 6 p.m. in Historic Old Town
Discover new art and culture at the Old Town Art Festival during the two-day event. There will be various paintings, sculptures and jewelry available for viewing and international dishes to sample. There is no cost and it's open to the public.

Hillcrest Hoedown
1 p.m. on University Avenue in Hillcrest
Giddy up, cowboys and cowgirls – University Avenue between Normal Street and Vermont Avenue will transform into a country street fair on Sunday. Country music will play throughout the fall festival in the heart of Hillcrest and you can even learn to line dance. So strap on your boots and get ready to party, country-style.

Where are you going this weekend? Tell us in the comments below.