Get ready -- the 2018 San Diego Music Awards kick off in a matter of months. The 27th annual gala will take place March 19 at House of Blues San Diego at 7 p.m. and will feature performances by P.O.D., Trouble in the Wind, Whitney Shay, Berkley Hart, the Surefire Soul Ensemble and Parker Meridien.
Proceeds from the event will go to benefit, as usual, the San Diego Music Foundation's Taylor Guitars for Schools program, which has put instruments into the hands of over 55,000 students across San Diego County in an effort "to enrich San Diego's diverse and creative music community through music education for youth, professional development for current and emerging industry professionals, live performances for the San Diego public and recognition for San Diego artists of exceptional merit or service."
For nearly three decades, the SDMAs have honored some of San Diego's hardest working musicians in more than 20 categories. While nominees are determined in advance by the San Diego Music Academy (which includes members of the music community, music media and talent buyers), the winners are chosen by the public (except for album categories, which are voted on solely by academy members). Speaking of which, voting opens Jan. 28 and closes Feb. 23 at www.sandiegomusicawards.com.
This year's nominees include some familiar names, from the Verigolds to Birdy Bardot, the Midnight Pine, Odessa Kane and our own J. Smith aka 1019 The Numberman. But there are also some fresh faces this time around, like Bad Kids, who are nominated for Best Indie/Alternative and coincidentally are the artists behind our new SoundDiego TV theme song, which debuted Sunday night.
So, here's to another wild SDMA ceremony, but hopefully with a little less bass guitar debris flying around (don't forget to get tickets!). Without further ado, here's the full list of 2018 SDMA nominees (don't forget to vote!):
Best Singer/Songwriter
Grampadrew
Jimmy Ruelas
Lindsay White
Sarah Rogo
Lee Coulter
Shane Hall
Best Jazz
Danny Green
Euphoria Brass Band
Jason Hanna
Montalban Quintet
Nathan Hubbard
Sue Palmer & Her Motel Swing Orchestra
Best Blues
Bill Magee Blues Band
Black Market III
Mercedes Moore
Missy Andersen
Stoney B Blues Band
Whitney Shay
Best Country or Americana
Berkley Hart
Morgan Leigh Band
Nena Anderson
Sara Petite
Shawn Rohlf
The Moves Collective
Best Hip-Hop/Rap
DJ Pnutz
Odessa Kane
C-Hecc
Riston Diggs
TC Doe
Vokab Kompany
Best Indie/Alternative
Authentic Sellout
Bad Kids
Buckfast Superbee
The Bassics
The Heavy Guilt
The Verigolds
Best Pop
Birdy Bardot
Ki
The Ordeal
Tolan Shaw
The Phantoms
The Midnight Pine
Best Rock
Bossfight
Earthless
The Farmers
The Oxen
The Routine
The Schizophonics
Best World Music
B-Side Players
Doornob Collective
Hirie
Split Finger
Todo Mundo
Tribal Theory
Best Live Performer
Joshua White
Mrs. Henry
Surefire Soul Ensemble
The Creepy Creeps
The Schizophonics
Trouble in the Wind
Best New Artist
Belladon
Jumbotron
Sights & Sages
Well Well Well
Stephanie Brown & the Surrealistics
The Goldettes
Artist of the Year
Casey Hensley Band
Parker Meridien
Gilbert Castellanos
The Redwoods Collective
The Schizophonics
Trouble in the Wind
Best Jazz Album
Dave Scott - "One Big Beautiful World"
Lori Bell & Ron Satterfield - "Blue(s)"
Matt Smith Neu Jazz Trio - "I Am Calm"
Patrick Yandall - "A Journey Home"
Rebecca Jade & Peter Sprague - "Planet Cole Porter"
Wayne Riker - "Soulfully Sliding"
Best Blues Album
Chickenbone Slim - "The Big Beat"
Fuzzy Rankin - "The Blues"
Robin Henkel - "Slippery Like a Watermelon Seed"
John January & Linda Berry - "Chemistry 101"
Mohavi Soul - "Hometown Blues"
Nathan James - "What I Believe"
Best Country or Americana Album
Jeff Berkley - "Whore House, Hot Sauce & Souvenirs"
Nancarrow - "Hot Chicken"
Ryan Hiller - "Big Medicine"
Sara Petite - "Road Less Traveled"
Tim Flannery - "Last of the Old Dogs"
Trouble in the Wind - "Pineapple Moon"
Best Hip Hop/Rap Album
1019 The Numberman - "Solus Superstes"
Audio Cord - "Stanz the Six 9teener"
Biggie Babylon - "Hash Tag Hip Hop N Dance"
Bloodstone - "Rapolutionary"
No1MC - "Conditional Struggle"
Saviorself - "Nasty City"
Best Indie/Alternative Album
Aviator Stash - s/t
Grizzly Business - "Spanish Old Fashioned"
Imagery Machine - "Skydriver"
Sights & Sages - "Double Plus"
Skyterra - "Over the Edge"
Splavender - "Hallucinations & Hospitalizations"
Best Pop Album
Marie Hadad - "Stories From Atlantis"
Nina Francis - "Between Dreams"
Astra Kelly - "Chasing the Light"
Michael Tiernan - "Love & a G"
Sister Speak - "The Stand"
Steven Ybarra - "The American Dream"
Best Rock Album
Electric Mud - "Dangerous Promises"
Mittens - "Endlessly"
Superunloader - "Twice in Half"
Taken by Canadians - s/t
The Paragraphs - "It's Always Never"
Dirty Sweet - "Once More Unto the Breach"
Best Local Recording
Ambassadors of Soul - "Just Make It Funky"
Comanche Moon - "Derailed"
Sham Saints - "Out of Tune"
The G. Burns Jug Band - "The Fever"
Veronica May - "Awakened"
Wish & the Well - "Darling Darling"
Best World Music Album
B-Side Players - "California Brown"
Mango Habanenro - "Live"
Marujah - "Marujah Rising"
Mike Pinto - "Hotel Rendezvous"
Strictly Skunk - s/t
Tribal Seeds - "Roots Party"
Album of the Year
Cindy Lee Berryhill - "The Adventurist"
Jack Tempchin - "Peaceful, Easy Feeling"
Joshua White - "13 Short Stories"
Ariel Levine - "Let the Machine Get It"
Little Hurricane - "Same Sun, Same Moon"
Parker Meridien - "Fists Like Gott"
Song of the Year
Ariel Levine - "Sunshine Part 2: On My Color TV"
Aviator Stash - "Lazy Summer Days"
Buckfast Superbee - "Sex It Sells"
Little Hurricane - "OTL"
P.O.D. - "Soundboy Killa"
Switchfoot - "If the House Burns Down Tonight"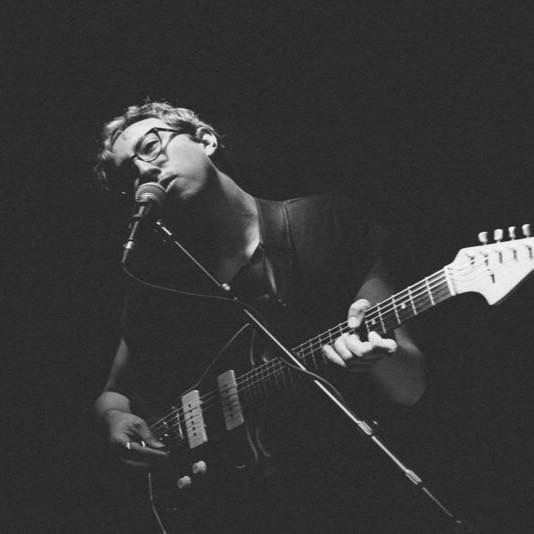 Rutger Rosenborg was almost a Stanford poet-neuroscientist before he formed Ed Ghost Tucker. Whoops. He now fronts the Lulls and makes music on his own when he's not writing. Follow his updates on Instagram and Twitter (@RArosenborg), add him on Facebook or contact him directly.