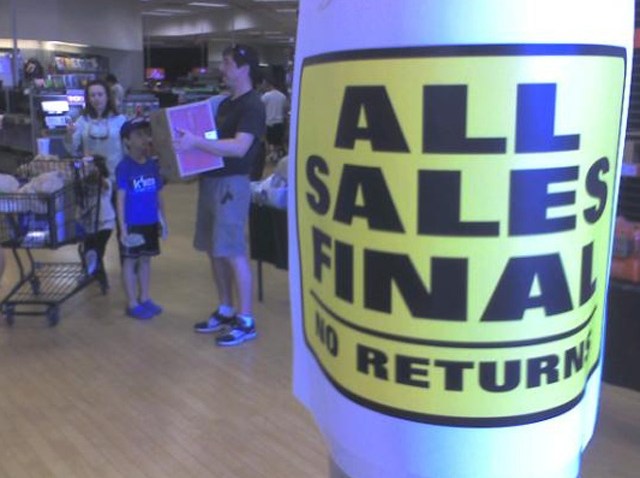 The need for a deal was evident this weekend at a local Circuit City. The line poured out of the door and down the street at the store on Rosecrans Street and Midway Saturday.
Circuit City Stores Inc., the nation's second-biggest consumer electronics retailer, reached an agreement with liquidators on Friday to sell the merchandise in its 567 U.S. stores after failing to find a buyer or a refinancing deal. Close-out sales began Saturday at all 567 stores in the United States.
Crowds were spotted outside Circuit City outlets across Southern California Saturday, but many shoppers said they were disappointed by a lack of big "going out of business" markdowns. Although shoppers were lining up to get in, most were leaving with nothing.
"You expect low prices, but I am disappointed," Chris Stillman said. "You wait in line and you feel are almost obligated to buy something."
Some items were marked down 10 percent, but it was not clear if prices had been reduced after Friday's announcement that a group of four scavenger firms planned to sell everything down to and including the fixtures.
The company, which employs more than 30,000 employees, said in court papers it has appointed Great American Group LLC, Hudson Capital Partners LLC, SB Capital Group LLC and Tiger Capital Group LLC as liquidators.
Circuit City filed for Chapter 11 bankruptcy protection in November as vendors started to restrict the flow of merchandise ahead of the busy holiday shopping season.
It had been exploring strategic alternatives since May, when it opened its books to Blockbuster Inc.
The Dallas-based movie-rental chain made a takeover bid of more than $1 billion with plans to create a 9,300-store chain to sell electronic gadgets and rent movies and games.
Blockbuster withdrew the bid in July because of market conditions.
Circuit City, which said it had $3.4 billion in assets and $2.32 billion in liabilities as of Aug. 31, said in its initial filings that it planned to emerge from court protection in the first half of this year.
Under court protection, Circuit City has broken 150 leases at locations where it no longer operates stores. The company already closed 155 stores in the U.S. in November and December.
U.S. Bankruptcy Judge Kevin Huennekens had given the company permission to liquidate if a buyout was not achieved.
The Circuit City Web site indicates they have 16 stores in the North Texas area.