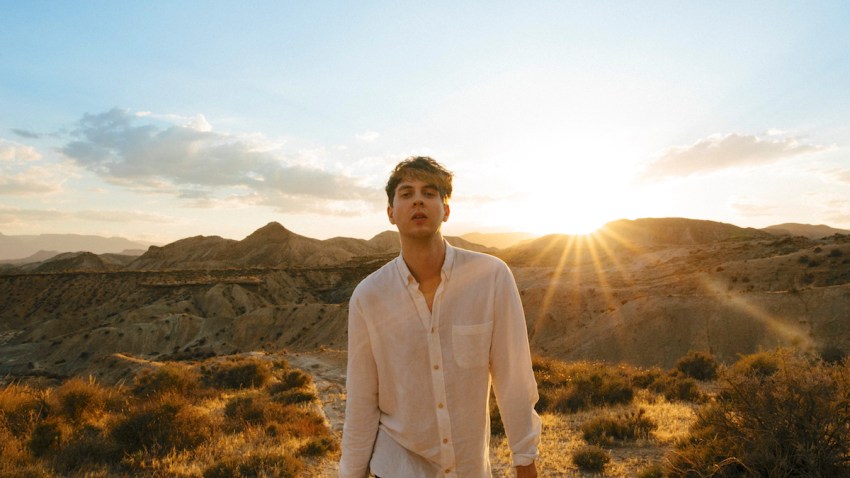 As an indie dance crossover artist from Germany, Marius Lauber never expected to have so much success. Yet, as Roosevelt, he's selling out just about every stop on his U.S. tour, from New York City's Music Hall of Williamsburg to San Diego's Soda Bar, where he'll perform on Sunday, Dec. 16.
"It's very surreal; you have to get your head around actually being successful," Lauber told me over the phone earlier this month.
"It's such a different world than touring here in Europe.... You feel like you're part of something," the buzzing Cologne-based producer and songwriter added.
As is often the case, Lauber wasn't really focused on making a career out of music when he first started. He was largely just experimenting, and he "didn't really care too much at the beginning."
"Around the release of the 'Elliot' EP [in 2013], I realized there was a worldwide interest in my music. From then on, I just tried to make it possible to tour worldwide," he said.
Not only does Lauber have the benefit of being from one of the most innovative countries in the world for electronic dance music, but he also has a more traditional songwriting sensibility that he's garnered from years of playing in indie bands.
"I'm coming more from the indie and guitar world.... When I was 15, 16, 17 [years old], I played in more like indie bands. Some of them had synthesizers. It was only when I moved to Cologne -- that was the moment I really got into dance music. For a while, I DJ'd at a techno party, and at some point, I mixed my indie background with my dance background," Lauber said.
From there, he blended his production skills with his songwriting skills, creating an organic feeling electronic dance sound that doesn't forsake melody or groove.
"It's kind of a hybrid of the two worlds. I sample drums a lot and use a lot of software synthesizers, but I also have a collection of vintage synthesizers and guitars," he said.
"I produce everything by myself. It's me in the studio by myself, sitting in the studio by myself. I want to continue doing that and not give it away [to other collaborators]," Lauber added.
It's ironic that some of today's most accessible music is borne out of such an individualized creative process, but there's an accessibility factor on both ends.
"A kid can do his own album in his room alone. Some people say it's a bad thing, but for me, that's how I started.... For a lot of people, dance music is the easiest to access [both as a consumer and as a budding artist]," he said.
As a result, there's quite a bit of innovation that's happening outside of major music festivals and inside home production studios.
"There's just a lot of electronic music happening at the moment.... Functional techno music is kind of gone, and now it's more about crossover things, blending different genres into it. Now, everyone's looking over their own horizon to find something more interesting. I've been digging more electronic music in the last one or two years than I normally would have. [Electronic music] is going through a certain change, and people are longing for something more weird, some new experiences," Lauber said.
And just because those weird, new experiences might involve some escapism, that doesn't mean that escapism has to be devoid of imagination.
"I used to have this secret Myspace page, and I was putting out any tracks that I recorded and that [Roosevelt] was just my name. A good friend of mine was in an exchange program and he was in Roosevelt, Utah, and it just felt so far away and that kind of spoke to me: I always wanted to have something connected to escapism, something that felt far away, not like any certain scene or the city I'm living in -- a place that's only there in your imagination somehow," Lauber added.
Roosevelt headlines Soda Bar on Sunday, Dec. 16. The show is sold out, but you can maybe get tickets here.
Rutger Ansley Rosenborg has been an Associate Editor at NBC SoundDiego since 2016. Find out more here, or contact him here.