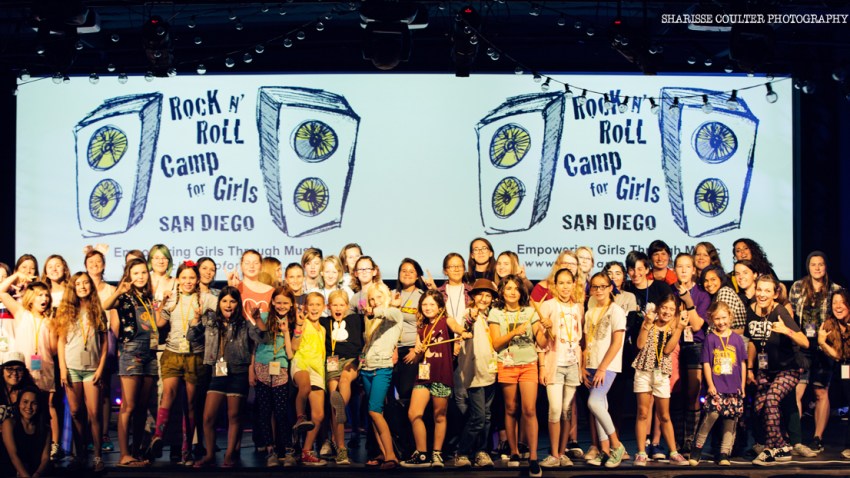 Girls rule; boys drool. We all know it, but at noon on Saturday, July 28, the Rock & Roll Camp for Girls San Diego will prove it at the House of Blues.
The nonprofit organization will continue to empower young girls through music at its third annual showcase. From July 23-27, campers between the ages of eight and 17 will learn an instrument, form a band and write a song before performing in front of an audience at the camp's finale showcase.
But it's not all about music. Camps will also include lessons on self-defense, image and identity, media literacy, and making a difference in the community. How they manage to fit all of that into one short week is quite an impressive feat.
This year, the Rock & Roll Camp for Girls will continue to shape the future female creative leaders of the world by partnering with Techne Sound, an educational organization dedicated to supporting diversity in tech-oriented fields. The company will host a DIY music tech workshop for the campers while they learn a bit about improvisation in music.
"It's incredible to see the campers' transformations from when they first enter camp to their final performance day," founder and president Melissa Grove said in a press release. "With the skills they've learned throughout the week, the girls are empowered and ready to rock their performances! On showcase day, I tell the girls this is their three-minute tour, so go out and own it!"
The rock & roll camp for female empowerment will take place at A.R.T.S. (A Reason to Survive) in National City from 9-5 p.m., and financial aid is available thanks to donors like the Jason Mraz Foundation, Find Your Light Foundation, Clare Rose Foundation, the Arnett Family Charitable Fund, Callaway Golf Employee Matching Gift Program and Indo Custom Teak Flooring, LLC.
Whether your kids are involved or not, it's the perfect daytime show to go out and support some badass women!
The third annual Rock & Roll Camp for Girls San Diego showcase will take place on Saturday, July 28, at House of Blues San Diego (1055 Fifth Ave.) at 12 p.m. The event is all ages and open to the public. Get tickets here.
Rutger Ansley Rosenborg has been an Associate Editor at NBC SoundDiego since 2016. Find out more here, or contact him here.