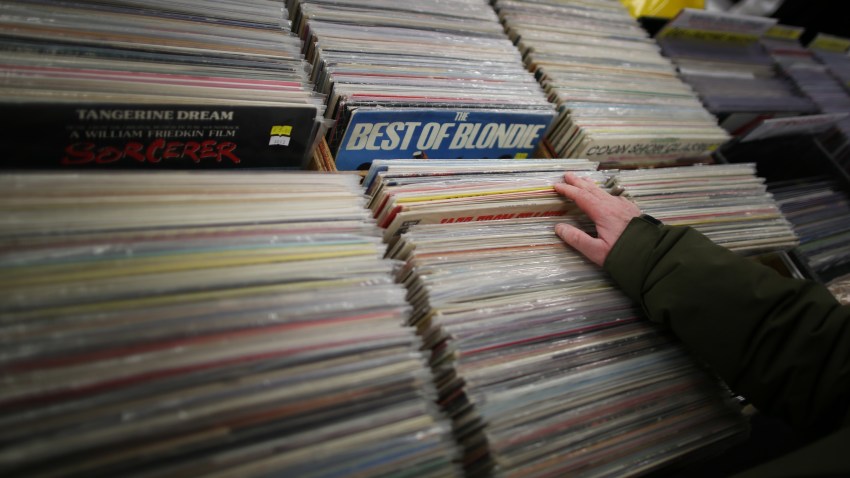 Christmas for vinyl lovers is just around the corner. Record Store Day -- the internationally celebrated non-holiday when local music stores and musicians join forces to bring awesome limited edition records to fans at reasonable prices -- falls on Saturday, April 18, this year. That means mad in-stores, rad record deals and art parties all around town. It's basically the best day ever. Below you'll find a smattering of RSD15 happenings around town, but there's a ton going on around SD, so shop local and support the bands and record stores you lurve.
This year, Dave Grohl (Foo Fighters, Nirvana, etc.) is the official Record Store Day ambassador, and he's pretty stoked about it.
"I believe that the power of the record store to inspire is still alive and well, and that their importance to our next generation of musicians is crucial," Grohl said in a RSD15 statement. "Take an afternoon (and some heard-earned lawn mowing money) and please support them. You never know, it might change your life forever."
Over 600 artists are set to take stages across the globe to help celebrate the annual event. The Foo Fighters will set up shop at Record Connection in Niles, OH, while Dresden Dolls reunite at Rough Trade in NYC, and artists such as Steve Earle, Jason Isbell, Damien Rice, Yellowcard, Graw and TV on the Radio head to in-stores at various locations. For a full list of events, performances and signings, go here.
There are simply too many records coming out on Saturday that have caught our eye but just a few names you may recognize who are issuing limited edition vinyl include Ryan Adams, D'Angelo, Bob Dylan, the Flaming Lips, Rick Ross, Lucero, Marvin Gaye, Foo Fighters, Interpol, Mastodon, OFF!, the Zombies and the Wu-Tang Clan. Check out the official list of RSD15 releases.
Access Hip Hop
Where: 1537 Garnet Ave, Pacific Beach, 858-270-3987
When: 11 a.m.-7 p.m.
In Stores: Mada, Norm Rocwell, Burn-One, Adamnt, Open Optics, more TBA
Deals: RSD15 exclusives
Comments: DJs will be spinning all-vinyl hip-hop, funk and soul classics all day long.
Cow Records
Where: 5042 Newport Ave., Ocean Beach, 619-523-0236
When: 10 a.m.-9 p.m.
In-store: The Midnight Pine (at 10:30 a.m.)
Deals: RSD15 exclusives
Grub: "I'll be eating while I'm working" - Cow Records employee, Alfred Howard.
Comments: They're hoping to have as many releases as they can get their hands on. Are they planning on holding any titles for themselves? "I'm gonna get that Run The Jewels release cuz it's the only album that matters that came out in the last decade," Howard told us. Oh, and according to him, they just got in seven copies of Metallica's RSD release -- their original, seven-song demo tape. On cassette, of course.
Lou's Records
Where: 434 N Coast Hwy 101, Encinitas, 760-753-1382
When: 10 a.m.-7 p.m.
In Stores: Cloud Mammoth (later in the afternoon)
Deals: RSD15 exclusives
Comments: Be sure to line up early, they start handing out numbers at 9 a.m.
M-Theory
Where: 915 W. Washington St., Mission Hills, 619-220-0485
When: 10 a.m.-8 p.m.
In stores: The Silent Comedy, the Midnight Pine
Deals: RSD15 exclusives, $1 CDs, $1 records
Extras: Sidewalk sale with art and vintage clothes
Grub: Morning coffee from Heartwork Cafe, pizza from Lefties, beer like hecka
Comments: Queue up early, because lines get long and for a limited run of, say, 500 records, M-Theory might only get in one or two copies.
Spin
Where: 370 Grand Ave., Carlsbad, 760-434-0807
When: 10 a.m.-10 p.m.
In stores: Trouble in the Wind, the Gift Machine, L.A. Edwards, the Tractormen, DJ Lexicon
Deals: Used vinyl from storage will be out in crates; RSD exclusives available inside
Grub: BBQ
Comments: Ken, the owner, ordered "everything on the list," so chances are there's going to be a varied and eclectic selection in Carlsbad. Live music starts at noon, with DJ sets throughout the day.