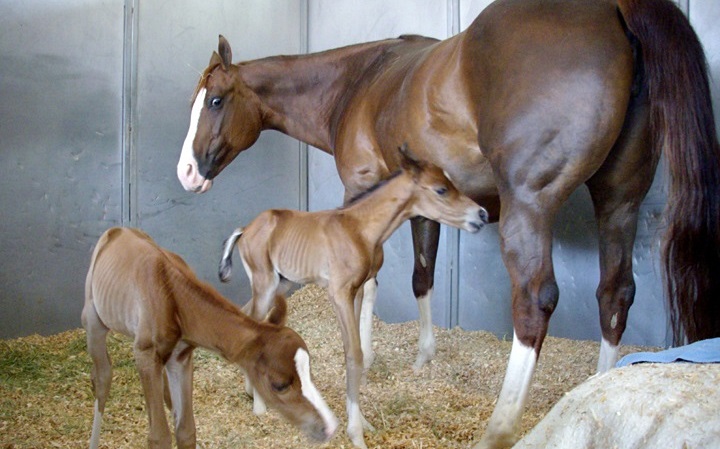 ANIMAL ATTACHMENT: For as much as we gently elbow our friends for getting obsessed with cute kitten videos and cute koala videos and cute salamander videos (those totally exist), the internet has some serious heart-tuggery behind all of the cute-a-tude. Stories of unlikely births and rare siblings capture our fancy and bring us closer our four-legged, beak-laden, scale-sweet co-earthlings. And you needn't act like you only ever elbow your pals about their online animal attachments -- we know you're probably attached, too, to the baby hippo or comical orangutan or platypus of the week. One of the biggest pairings to sweep through the land of online animal aficionados happened to have been born in California, and it was quite the big moment.
TWIN FOALS... Angel and Sunny were born a half decade ago to Lena and survived, which was pretty epic. Helen Woodward Animal Center's Equine Hospital, with Dr. Rodrigo Vazquez at the lead, cared for the infant horses, and their mother, and all three "thrived" (quite the huge deal, as the twins surviving their first two weeks of the lives had a 1-in-15,000 shot, per the center). It was a story for horse-loving people and all people who have affection for endearing animal stories, not to mention endearing animal photos and videos, too. The twins are now grown-up, a big 5 years old, and the center is inviting their fans to come see them, and mother Lena, on Saturday, March 28. It's a birthday party! (Animal birthday parties always deserve an exclamation point.)
WILL THERE BE CAKE? There will be, and party-style refreshments. Will there be a drawing for twin-foals-type items? You bet. Will you be able to coo as you watch the youngsters, who are now much bigger, of course, than when they made headlines, frolic with their mother? That will be one of the big takeaways of the day. How often, truly, do you get to see an animal you've loved online in person? Or in horse? It'll happen from noon to 2 p.m. on March 28 for many fans. And if you can't wait, you can see streaming video of Sunny and Angel right this very second.
Copyright FREEL - NBC Local Media