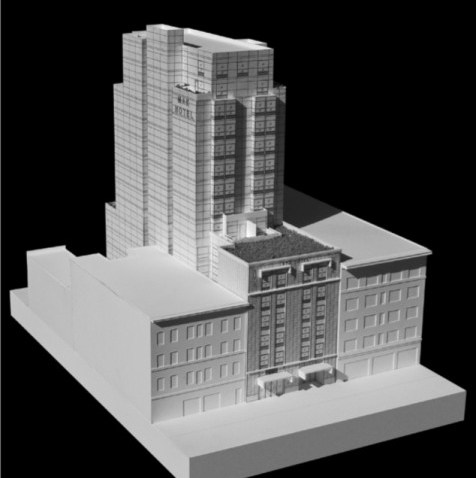 Did you see Drive Like Jehu? Use every cliche you've heard, like when pigs fly or when hell freezes over, 'cause all of that came to fruition and the band played at the freakin' Spreckels Organ Pavilion in Balboa Park with that famous giant organ! It was amazing. San Diego was on the indie rock music map on Sunday. and many eyes were on Drive Like Jehu, with articles in all the major music magazines. I want to thank Dang Nguyen for making it happen and the band -- John Reis, Rick Froberg, Mark Trombino and Mike Kennedy -- for doing it in the town they are from: our town! They say it will be only one show, but we will see. That being said, if you missed 'em, go see Hot Snakes, Rick and John's other band. Looking ahead, though, feast your eyes on this amazing selection of upcoming shows!
Sept. 2: ListenSD Presents: Hills Like Elephants, Ed Ghost Tucker, Amerikan Bear and DJ Man-Cat at Soda Bar. Great local bands and ListenSD is pretty awesome!
Sept. 3: Mother Falcon and Kan Wakan at Soda Bar. Cellos, violas, violins and much more from Mother Falcon. Kan Wakan is a band not a person and sounds like '60s jangly pop.
Sept. 4: The Baseball Project at the Soda Bar. Songs about baseball with members of R.E.M.!
Sept. 5: Jessica Hernandez & the Deltas at House Of Blues. This band is from Detroit, and its sound could be described as Gothic pop or dark soul.
Sept. 6: Johnny Vatos Boingo Dance Party at Sycuan Live & Up Close (El Cajon). Oingo Boingo may never play again, but you can hear the songs performed live from a band that features a member of said band.
Sept. 7: FM 94/9 Independence Jam at the Junior Seau Oceanside Pier Amphitheatre (Oceanside), with Phantogram, Walk the Moon, Bad Suns, Joywave, J. Roddy Walston & the Business, Wild Club and Little Hurricane. The show is sold out and near the beach, so head on up, put a towel down and listen from the sand.
Sept. 8: The Last Internationale at the Casbah. Dark rock & roll from a band that now features Brad Wilk of Rage Against the Machine on drums.
Sept. 9: G.B.H. at the Casbah. Legendary UK punk rock band!
Sept.10: Hot Snakes at the Irenic. This show is all ages and features members of Drive Like Jehu.
Sept. 11: Maryjane's Underground at the Hard Rock Hotel with Javier Escovedo and the Fink Bombs, then off to see Hot Snakes at the Casbah. RSVP here for complimentary 619 Vodka from 8-9 p.m. at Maryjane's Underground.

Sept. 12: San Diego Music Thing at various venues: Check out the SDMT website for details.
Sept. 13: San Diego Music Thing at various venues: Check out the SDMT website for details.
Sept. 14: Owen Pallett and Avi Buffalo at the Casbah. Owen used to go by Final Fantasy, and Avi is from Long Beach. with a new album on SubPop called "At Best Cuckold."
Sept. 15: Chuck Ragan and Rusty Maples at the Casbah. The voice of Hot Water Music and indie desert rockers.
Sept. 16: Sebadoh at the Casbah. Lou Barlow is pretty badass, and it will be good to see this band that formed in 1986.
Sept. 17: The Breeders at the Casbah. The Deal sisters are back! Kim Deal was in the Pixies up until just recently.
Sept. 18: Rise Against, Touche Amore and Radkey at RIMAC Arena. Punk rockers from Chicago Rise Against are back with a new album, "The Black Market."
Sept. 19: Andrew Bird at Humphrey's Concerts By the Bay. This dude can whistle a mean tune and plays the glockenspiel!
Sept. 20: Yanni at the San Diego Civic Theater. His full name is Yiannis Chryssomallis.
Sept. 21: Kaiser Chiefs and Howler at the House of Blues. UK alt rockers and indie thrash pop from Minneapolis.
Sept. 22: The Bots at the Casbah. Two brothers from Glendale, California, that are here to save rock & roll!
Sept. 23: Zeahorse, Sick Balloons and Space Heat at Soda Bar. Noisy guitar music from Sydney, Australia, with some hometown bands.
Sept. 24: Interpol at the House of Blues. The new album is titled "El Pintor," and it's out the first week in September. I will be interviewing the band for SoundDiego.
Sept. 25: King Tuff at the Irenic. New album, "Black Moon Spell," out Sept. 23 via SubPop.
Sept. 26: The Kooks at House of Blues. UK alt-rock hitmakers!
Sept. 27: Adams Avenue Street Fair. Too many bands to mention; check the official website for details here. It continues on Sunday, too!
Sept. 28: Paul McCartney at Petco Park. A Beatle plays SD and it will be good!
Sept. 29: Thievery Corporation at the Belly Up. Great downtempo electronica from this amazing "live" band which features the bass player Hash, who used to be in local band Gogogo Airheart.
Sept. 30: The Gaslight Anthem and Against Me at House of Blues. A night of punk rock & roll!
There you go, kids, some shows handpicked by me and a lot that I will be going to (except for Yanni, I was totally joking). Shows, shows and more shows -- so much to do in SD. Now go out and do it, but please support a local band while you're at it!

Tim Pyles, a longtime local who grew up in La Jolla, is the unofficial mayor of local music and hosts the Local 94/9 via FM94/9 every Sunday from 9 p.m. to 12 a.m. He also books local acts at the Casbah, hosts the weekly Anti-Monday League, books/hosts the monthly Maryjane's Underground at the House of Blues and is an entertainment writer for Pacific San Diego Magazine. Check out his website thelocalpyle.com and and follow him on Twitter @thelocalpyle. You can reach him directly here pyleste@yahoo.com