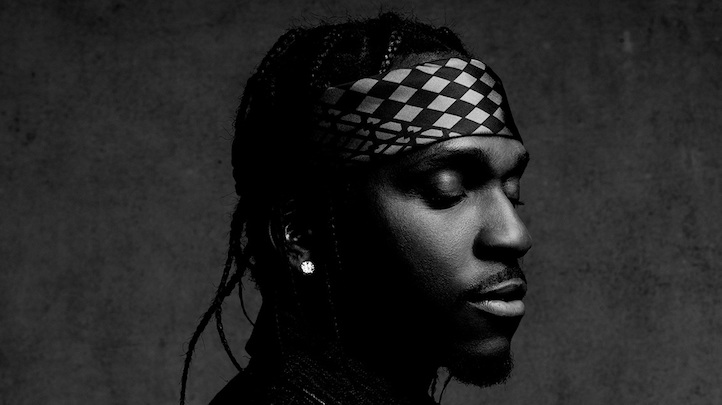 Pusha T is having a moment -- a big one. And while he's no stranger to celebrity -- a hip-hop mainstay since his days with the Clipse -- his recent war of words with Drake has taken the rapper from musical cult hero to mainstream media darling.
Yes, there are levels to this. But in addition to his scene-stealing ("The Story of Adidon"), the Virginia Beach legend -- who will be at Parq on Saturday night -- also snagged another win with his latest release, "Daytona."
Clocking in at just over the 20-minute mark, it's an efficient body of work. Lean and sleek, with no room for missteps, the album plays like the memoir of a cocaine mogul -- crack era anthology shaped into seven songs.
From the opener, "If You Know You Know," he's locked in, full of self-awareness and easy bravado, sharing bits of D-Boy wisdom, the kingpin sage: "A rapper turned trapper can't morph into us / But a trapper turned rapper can morph into Puff."
Indeed, a little thug motivation goes a long way, because even trap stars have dreams -- and "this ain't for the conscious" he raps, midway through "Games We Play," "This is for the mud-made monsters, who grew up on legends from outta Yonkers."
"Eghck," you can almost imagine his signature sound punctuating the stanza, but this is a celebration -- he beat the odds, and "Daytona" is what victory sounds like.
"I'm too rare amongst all this pink hair," Push reminds us on "Hard Piano," a mid-tempo clip featuring Rick Ross. And he is, a true gem -- an artist in peak form.
He glides over "Come Back Baby," hop-scotching its hollow snares, boasting of long money and big yachts, before navigating the mesmerizing "Santeria" and its sultry Spanish hook.
From there it's "What Would Meek Do?", a casual exercise in confidence, with a loaded premise of a title. Then he closes it all out, as quick as it began, finishing with the subliminal salvo "Infrared," the album's unassuming bookend and bait for Aubrey Graham.
It's an impressive offering, a master at full bloom, speaking the language of made men he creates a unique space -- one where high brow appetites meet hustler ambition and dope dealing folklore turns into fine art.
This type of brilliance doesn't happen often, so when it arrives on our doorstep we should welcome it in. And on Saturday, June 16, Pusha T will have a moment here in San Diego. Playing Parq downtown, there's a blizzard in our forecast, a real chance of snow. Eghck, we should be so lucky.

J. Smith, aka 1019, is a San Diego native, rap fan and one half of the rap duo Parker & the Numberman. You can follow him on Instagram at 1019_the_numberman or on Twitter