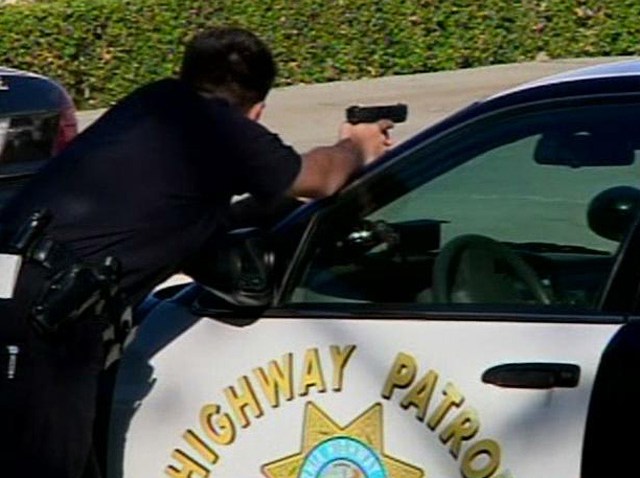 Police have called off a search for a second bank robbery suspect in Rolando, after he and an accomplice allegedly robbed a bank in La Mesa.
The search was called off around 11:15 p.m. Saturday night, after police identified the suspect and took him into custody nearby.
The search started after officers were dispatched to the area near Mataro Drive and Rolando Boulevard just after 2:00 p.m. Police had been searching for two suspects who had robbed a California Coast Credit Union branch in La Mesa earlier in the day.
A sergeant had spotted the getaway car, a Monte Carlo, and noticed a man matching a suspect description walking away from the car. A foot chase began.
Another officer ran into the suspect in the backyard of a home. Police say the officer fired several shots, because the suspect reached for something in his waist. Detectives said no one was hit by the gunfire, but the man did get away.
The shot went off behind Scott Campbell's home.
"We heard the helicopter say, we see you in the backyard. You¹re surrounded. Give yourself up," Campbell recalled.
"Heard pop, pop, pop. The guy popped up. [He] just casually had a gun in his hand. He was walking right towards our house, So wife and kid ran in the bathroom. We started locking all the doors," Campbell said.
The family's friend, Ed Miles, grabbed Campbell's hand gun and loaded it and went outside to protect the family.
"My crazy ass got the gun and went out after to see if he was in the garage or in the shed," Miles said. "I put the gun in my pants because I knew the helicopter was flying about, walked to the garage, opened the door and said 'hey if someone is in here you will be shot. I got a gun.'"
He didn't find anyone, but police found him. They detained him for about 30 minutes to make sure he wasn't one of the suspects.
Police evacuated the Campbell's home, as well as dozens of homes while they searched for the suspects. They located one man in the backyard of a home around 5:45pm. They sent a police dog into the garage of the property to help capture the suspect.
SWAT members had the help of a helicopter during the search, but they weren't able to locate a second suspect. After nine hours everyone in the neighborhood was allowed to return home.