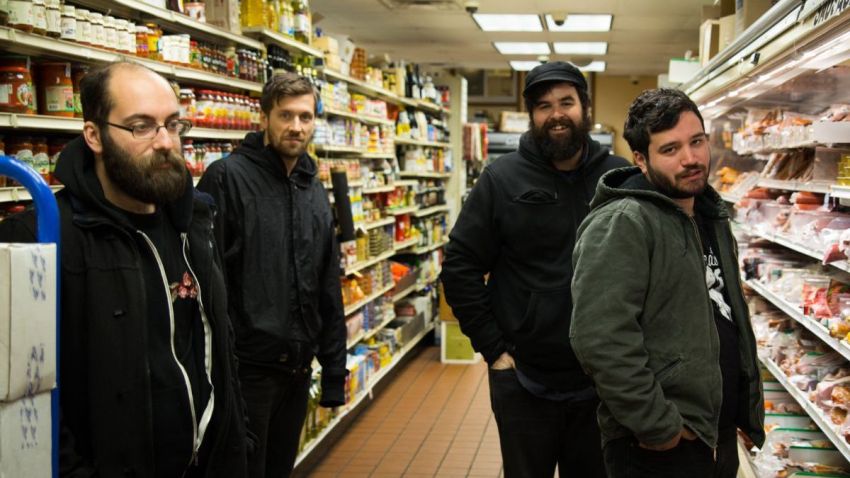 A month ago, Pile released their seventh album, "Green and Gray," which, according to the band's centerpiece, Rick Maguire, relates to both being new at something and also to being old.
"We were in upstate New York, and it was December. Those two colors were pretty prominently featured," Maguire told me over the phone last month.
Following the band's Boston birth in 2007, Pile's rise to cult status and DIY stardom was inevitable, but the arduous existence of a touring post-hardcore four-piece that eschews ego-driven commerciality in the 21st century isn't lost on Maguire ... or the band's music.
Pile are jagged around the edges. Every movement, every vocal peak and valley feels both intentional and also spontaneous. Recorded and performed, Maguire's songs are the disintermediated reality of his expression, the raw material state of art prior to commercial mechanization and reproduction.
"It's been pretty intentional to try to have those dynamics over the years. We maybe have pushed them a bit further from each other on this record than past records. Some of the mellower stuff is -- it actually feels like the whole set could have felt that way," Maguire said.
Before Maguire moved to Nashville in 2018, he had a panic attack, which produced the single "Bruxist Grin." He's closer to his parents now, but for all intents and purposes, Pile remains Magure's raison d'etre.
"It also could be an excuse for me to not commit to things that I don't want to fully pursue -- personal relationships and money and all that stuff," Maguire said.
"But it's all been worth it. It is kind of the center of my existence," he added.
Pile headline Soda Bar on Friday, June 14. Get tickets here.
Rutger Ansley Rosenborg is an editor and digital marketer at NBC's SoundDiego. Find out more here.