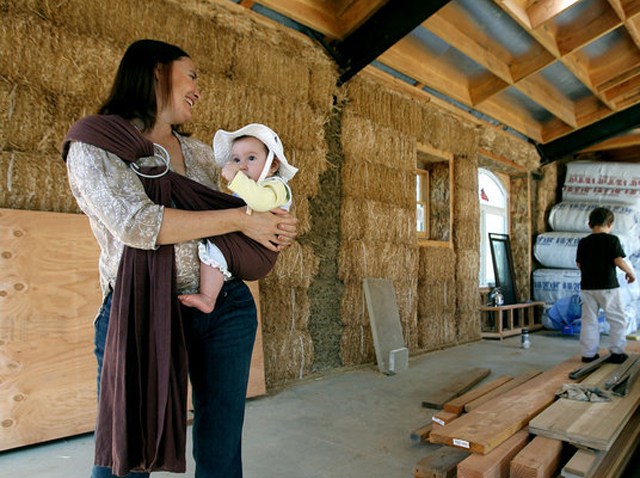 Stacking bales of straw isn't how most people would build a home, but it's getting the job done for Vista's James and Josiane Petitt, who are building their house on Kelglen Lane with mostly natural materials and the help of friends and strangers, reported the North County Times.

Straw-bale homebuilding uses recycled agricultural waste -- baled straw from harvested grain -- to form and insulate exterior walls. Plaster made from clay, sand, straw and water is used on both the interior and exterior instead of drywall, siding and paint.

The unconventional building method comes with benefits -- straw's high insulation rating can help reduce energy used for heating and cooling -- but it doesn't come cheap.

"If you have an architect who doesn't know the basic concepts, [the cost] can be ridiculous," she said. "If you get someone who knows what they are doing, it can be comparable [to] or less than conventional construction, particularly if you can put in the labor yourself."

Josiane said she expects the total cost of their 1,800-square-foot house -- including purchasing the quarter-acre lot, paying for $24,000 in street improvements, buying materials and hiring consultants -- to about $600,000.

To help keep costs in check, the Petitts recruited volunteers by hosting several workshops at their home-in-progress so people interested in the straw-building process could learn how it's done. Attendees get free tips, tricks and lunch and the Petitts get free labor.