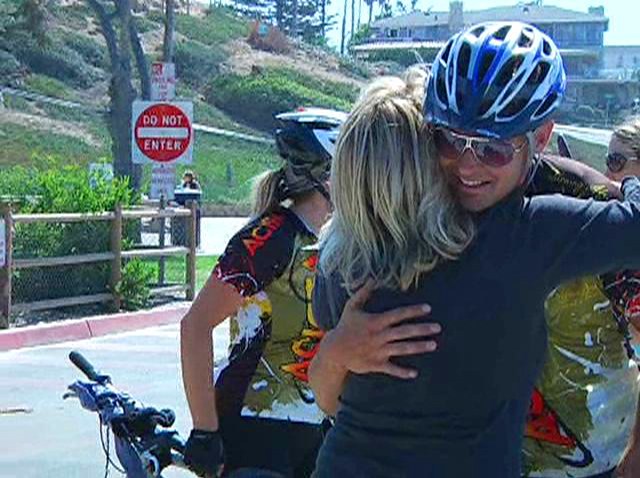 A cyclist is going the distance to raise awareness about a charity helping people a world away.

David Sacher is making a quick pit stop in San Diego on a marathon ride from Alaska to Argentina. Family and friends gathered on Moonlight Beach in Encinitas to make the most of every moment. They wore signs of support and pride on their hats, backs and sleeves, and their cameras were at the ready to capture Sacher's arrival. He was accompanied by a a few people who joined the ride in San Juan Capistrano.

Plenty of hugs made it a happy homecoming for Sacher, who has been cycling solo for weeks.

"I didn't know how hard this would be," the temporarily stopped Sacher said.

Sacher's mother and sister said they knew he had enough grit to get it done, no matter how hard it is. The source of his determination is Acirfa ("Africa" spelled backward), a non-profit bike-building business in Zambia founded by two San Diegans. Its mission is to change lives one bike at at time. Sacher said that's what keeps him going.

"It's not just for you," Sacher said.

Sacher plans on spending a few days in town, resting and reconnecting. He will also indulge in a few things he will miss the most on the long road ahead, like showers, red wine, chocolate and cheeseburgers.

Want to keep up with Sacher along the way? Click here to read his blog and learn more about Acirfa.