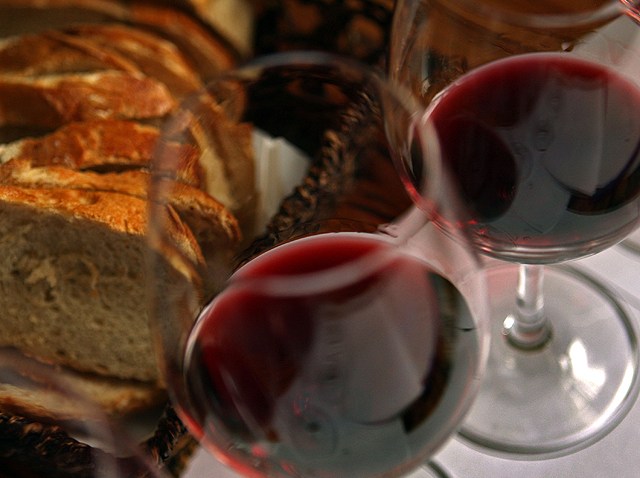 As 2009 nears its end, who among us doesn't look back and reminisce about the high points of the year? The folks at a Little Italy wine bistro pulled together a menu highlighting some of its best-selling wines of 2009.
The Wine Vault & Bistro calls this its "10-Course Tasting Menu Paired with Our 5 Top Reds of 2009."
If you enjoy great food paired with great wines, this seems like one dinner you'll not want to miss.
1. Idiazabal (Smoky Spanish Cheese) Croquette
and
2. Swordfish Conserva | Pimentos de Padron | Crostini
served with:
2006 Bokisch Vineyards Tempranillo (3 oz. pour)
3. Roasted Mushroom Bisque | Truffle Cream | Garlic Chips
and
4. Pan Roasted Salmon | Lentils | Braised Nueske Bacon
served with:
2005 Addamo Pinot Noir (3 oz. pour)
5. Braised Cannellini Beans | Guanciale | Marjoram | Kale
and
6. Housemade Pappardelle Pasta | Braised Pork Shoulder | Rapini | Pecorino Cheese
served with:
2006 Leal "Threesome" Rhone Blend (3 oz. pour)
7. Herb Roasted Pork Belly | Stone Ground Grits | Smoked Paprika Chimichurri Sauce
and
8. Chistorra Chorizo Montadillo | Roasted Garlic Aioli | Wild Arugula
served with:
2006 Kaiken "Ultra" Malbec (3 oz. pour)
9. Red Wine Braised Beef Cheeks | Potato Cake | Chutney
and
10. Grilled NY Strip Loin | Roasted Sunchoke Puree | Porcini Mushrooms
served with:
2004 Baxter "Rodgers Vineyard" Merlot (3 oz. pour)
The bistro is offering the menu on Tuesday and Wednesday – Dec. 29 and 30 – at a steal. The cost is $32.50 per person. If you're interested, RSVP at (619) 295-3939.
Wine Vault & Bistro is located in the heart of San Diego between Little Italy and Old Town at 3731-A India Street on the upstairs terrace. Follow the black handrail up the stairs from the sidewalk to our front door.