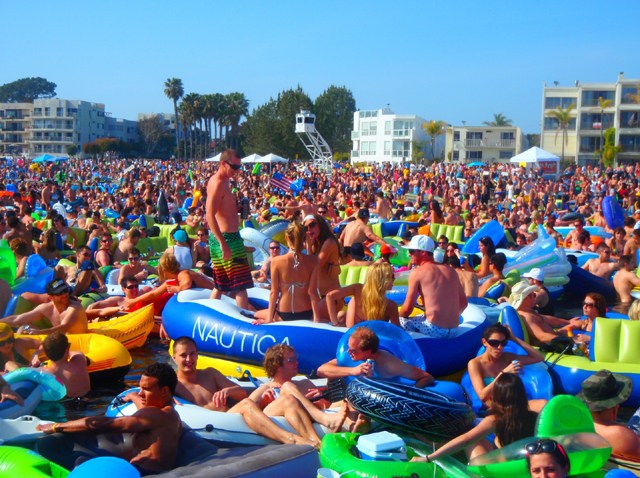 The beach booze ban rebels are preparing to float again.
Another Floatopia is planned for Saturday, July 17 at Fanuel Park and Sail Bay in Pacific Beach. According to Floatopia's Facebook page, more than 3900 people have tentatively RSVP'd to the event.
Local residents and businesses should expect to have a little more traffic than usual this weekend, as people try to make their way to the party, one resident says he doesn't mind the Floatopia.
"I don't mind it too much as long as it stays under control," said Mike Matthes, owner of Computer Help La Jolla. Matthes, who works out of his home next to Fanuel Park, says there are plenty of resources on stand-by if the party gets out of control.
"Last time they were here it was fine," Matthes said.
During the event last year, Matthes said after a fight broke out police broke up the party. All 3000 party-goers were told to leave the area, he said the beach was cleared out in 30 to 45 minutes.
Matthes, a Pacific Beach resident for 20 years, said the Floatopia event is actually tame compared to pervious summers when alcohol was legal on the beach. "The beaches are much calmer now," he said.
For people living in the beach communities, they say the booze ban has moved the party from the sand to area parks -- including Kate Sessions Park
"There's more traffic, there are more kids, there is more noise," Adler said. "It's just the weekend crowd that has spoiled it for everyone."
Since the ban, partiers have gone to great lengths to ensure they are still able to party, including holding events like Floatopia and other festivities.
"We get complaints about public urination. We get complaints about littering," said San Diego Police Capt. Christopher Ball.
Over the Fourth of July Weekend, party organizer Miles Shumilak held a party at Kate Session Park with nearly 700 attendees.
"You can't stop the tide. You're going to have to create some avenue for people to enjoy themselves outdoors," Shumilak said.
Police say trash is one of the most common complaints. Police and Lifeguards are calling for the booze ban to be extended through Mission Bay and out 3 miles from San Diego's oceanfront.
A measure approved by City Council's Public Safety and Neighborhood Services Committee could close a loophole in Proposition D, which city voters passed by a wide margin in November 2008 and banned alcohol consumption on San Diego's beaches.
The measure now moves to the full council, but even if the crackdown is fast-tracked and passed, it would not go into effect until late August at the earliest.
Personal watercraft such as sailboats motorboats, rowboats and paddleboats would be exempted from the proposed ban.