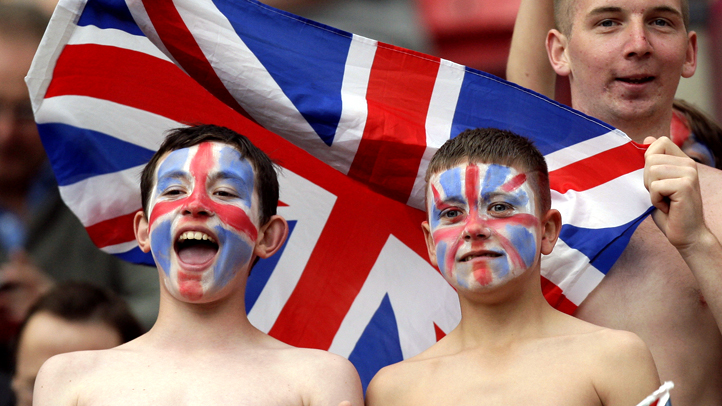 Ah, it's finally here. The moment we've all been waiting for. The XXX Olympic Summer Games officially kicked off on Friday afternoon for us Pacific Rim people, while thousands of spectators enjoyed the show on a warm England evening.

In order to properly get in the London 2012 spirit, it only makes sense to spend the entire weekend celebrating the beloved summer games. Here's an itinerary for the true fan of the Olympics.

Friday, July 27

Watch the Olympics Opening Ceremony in style aboard the USS Midway, where NBC 7 San Diego anchors Catherine Garcia and Mark Mullen will be emceeing the event. Begin to train for the 2016 Summer Games with the coaches aboard the ship who will be teaching archery, gymnastics, rugby and more.

Once you're too tired to party, head back to the Olympic Village, aka: your house, and rest up for the next day's activities.

Saturday, July 28

Wake up early and head over to Hash House a Go Go in Hillcrest to scarf down a breakfast of champions. Remember, if Michael Phelps can eat 12,000 calories a day so can you. The manhole-sized pancakes will certainly ensure you meet your daily sugar quota.

But make sure to arrive before 10 a.m. Because if waiting in line was an Olympic sport, Hash House would be the perfect place to prepare.

Next stop: Mission Bay Aquatic Center. The seaside establishment has inexpensive rentals that will help you prepare for the 2016 kayaking competition. Want to try a variety of different Olympic competitions? No problem. MBAC also rents sailboats and rowboats.

Finish off the day with a hefty sandwich from 4.0 Deli – remember you still have to eat 5,000 more calories. The sandwich shop near San Diego State University will be airing Olympic events during the weekend from 10 a.m. to 10 p.m.
Click here for full Olympic coverage

Sunday, July 29

Start the day off right by running a marathon from your house to the Chula Vista Olympic Training Center. Wait, it's not 26.2 miles? Keep running, then.

After your light workout, grab breakfast and a pint at Shakespeare Pub in Little Italy. You'll want to sample the British fare that Team USA is currently eating in London. The shepherd's pie is an England favorite, as is the "bangers and mash" dish.

If the sun is shining, make sure to roll over to Mission Beach to practice your volleyball skills. Serve, spike and bump your way into a friendly game – then turn it into a competitive match, Team USA-style. You'll be playing alongside Misty May in no time.

Finish off the day by practicing some archery at Morley Field. You'll have to bring your own bow and arrows, but of course you already have some. You're a real athlete and a true Olympic fan.

Naturally, in between all these fun weekend events, you'll want to tune in to watch the competition. We've got you covered – check out when to watch.

Get Olympic updates: iPad App | iPhone App | Android App | Facebook | Twitter | Google+ | Instagram | RSS | Text Alerts | Email Alerts