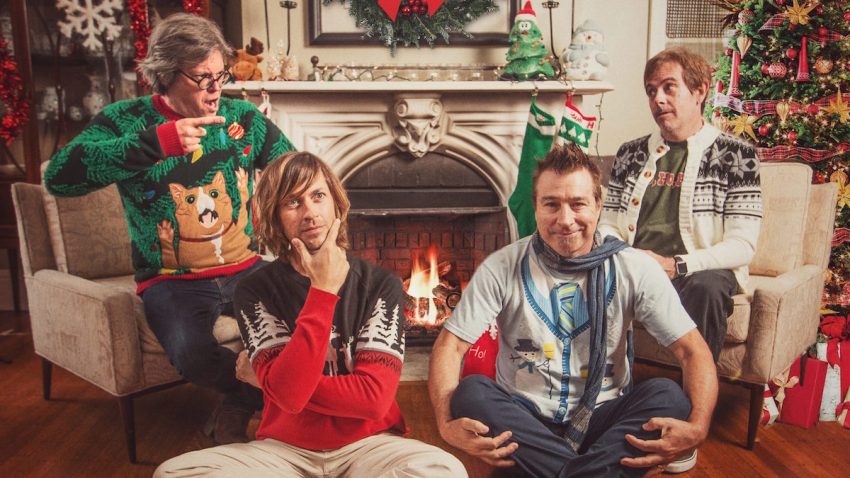 I am all-in this holiday season. The only problem is that there are so many great and festive events that it's impossible to make all of them. Tonight, for example, the Old 97's bring their Holiday Extravaganza to the
Belly Up
, including opening sets with Rhett Miller and DIY punk rock magician Caseymagic. But then there's also our friend Low Volts, who's playing at
Bar Pink
's annual Holiday Prom. It's super fun, everyone dresses up in cocktail attire and the donated canned food drive and raffle ticket sales benefit Mama's Kitchen. Of course, there are non-Holiday events, too, like Tropa Magica playing at Soda Bar or Western Settings, who are not only playing but also shooting a music video at Ken Club. There's a lot to do this Sunday night, so it'll be easy to have some fun tonight.
Sunday, Dec. 2:
Old 97's Holiday Extravaganza with Caseymagic, Rhett Miller @ Belly Up
Holiday Prom with Low Volts & the Hi-Watts, DJ Dunekat @ Bar Pink
Tropa Magica (fka Thee Commons), San Pedro El Cortez, Vlush @ Soda Bar
Western Settings, Allweather @ Ken Club
The Book of Longing featuring Brazilian vocalist Luciana Souza, Chico Pinheiro on guitar, Scott Colley on bass @ TSRI (The Scripps Research Institute)
The Black Dahlia Murder, Ghoul, Gost, Uada @ Brick by Brick
Mad Hat Hucksters Tweed Ride @ Panama 66
Pocari Sweat: Vaporwave, Future Funk, City Pop, NoxiD @ Space
Me First & the Gimme Gimmes, Mean Jeans, Drakulas @ House of Blues San Diego
House of Blues Gospel Brunch @ House of Blues (11 a.m.)
Graham Gillot Band @ Crossroads, House of Blues (free)
Kasbo, Vancouver Sleep Clinic @ Music Box
Under the Streetlamp: Hip to the Holidays @ Sycuan
Red Room @ Bancroft Bar
Keep It on the DL @ Martini's Above Fourth
Bomba De Botey @ Border X Brewing
Ben Pirani & the Means of Production, Billy Prince, Jake Najor & the Moment of Truth @ The Merrow
Misfits live tribute, DJs Javi Nunez & Mike Delgado @ Blonde
School of Rock @ Pour House (1 p.m.)
Salsa Sundays @ Queen Bee's (all ages)
Stay Strange presents Noise Music Sunday Matinee @ Kava Lounge (3-8 p.m.)
Reggae Sunday @ U-31
Uptown Top Ranking @ The Office
Josie Day @ Navajo Live
Cerissa McQueen @ Humphreys Backstage Live (7 p.m.)
Reggae Sunday @ Spin
Rosemary Bystrak is the publicist for the Casbah and writes about the San Diego music scene, events and general musings about life in San Diego on San Diego: Dialed In. Follow her updates on Twitter or contact her directly.