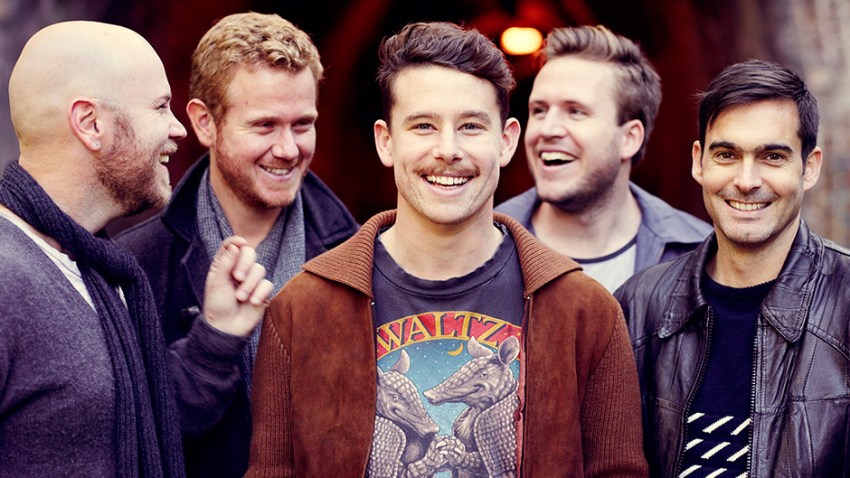 There are those bands on which great expectations were placed perhaps too early -- the kind of expectations that stifle character and development instead of nurturing it, like greatness assigned before it has the chance to be discovered. And that's some serious pressure. On Tuesday, Nov. 17, after sweeping past our fair city on its last three visits to the U.S., one such band hits Soda Bar -- San Diego, say g'day to Boy & Bear.
When Australia's Boy & Bear released their independent single, "Mexican Mavis," and subsequent 2011 debut record, "Moonfire," critics fizzed with comparisons to Fleet Foxes and Mumford & Sons, tapping their folk-hungry fingers in anticipation of another "Home" a la Edward Sharpe & the Magnetic Zeros. It's what arguably pushed the quintet back into the studio almost immediately to record "Harlequin Dream," their sophomore effort that dropped two years after their debut and then carried them through some 170 shows across three continents in a year. The relentless touring brought the band back to the studio for October's "Limit of Love," recorded live in studio with producer Ethan Johns (who shares credits with the likes of Kings of Leon, Ryan Adams and Kaiser Chiefs).
For all their success and tireless work, Boy & Bear received back-handed compliments from the very critics who once affectionately rubbed their newborn bellies, their album's reception plump with lukewarm sentiments that sound a lot like, "Yeah, it's good, but we expected that. Now what?" It's a slap in the face maybe, but also a challenge, one that both Boy & Bear and their fans should welcome -- discovering what lies beneath the golden-child sheen as it fades. Because they've done "good" in the "been there, done that" sense. They've nailed it. But they're more than that. Now Boy & Bear are being given a chance to be great again, but on their own terms. And it's already started.
Here, Boy & Bear bassist David Symes -- who joined David Hosking (vocals, guitar), Killian Gavin (vocals, guitar) and brothers Timothy (drums, vocals) and Jonathan Hart (vocals, banjo, mandolin, keyboards) when they went into studio for "Harlequin Dream" -- talks with SoundDiego about taking "Limit of Love" live, both in the studio and beyond.
Hannah Lott-Schwartz: Is it different playing for American audiences than playing Australian crowds?
David Symes: Yeah, there are differences, but generally it's sort of the same thing. I think that the audiences in the States are big music fans -- there seems to be more of a history of going out to see rock & roll shows. It's where a lot of our sort of heros have played, and often have played in the same cities and sometimes the same venues. It's like tapping into a piece of music history playing in America.
HLS: So your history with Boy & Bear -- you came in on "Harlequin Dream," right?
DS: I joined the band just before "Harlequin Dream." It's coming up on three years in about a month.
HLS: How'd that come about?
DS: I was playing in some other bands in Aus, and it came at a time when they were looking at a new bass player, and I jumped on to play some festival shows, and it just worked really well. We seemed to connect musically and personally, and they already had the album in place to start recording about a month after that. It was really good timing for me -- I was ready to be in a band again, and it's been an amazing journey for me.
HLS: I read an interview where one of you guys say you aren't "the most shenanigan-y kind of band." Does that mean the van isn't full of fart jokes, empty 40s and group-Tindering?
DS: [Laughs] I guess we keep each other in check. There are still enough shenanigans. It's not clean the whole time. You get five guys in a room together for 11 months of the year... I think we sort of like to stay fit and healthy as much as we can on the road. We all exercise a lot on the road. We enjoy fine food and fine wine... It's probably true that we definitely keep an eye on each other.
HLS: For the latest album, you guys recorded live in studio. Why?
DS: We did a lot of shows last year with our last record, and the band was just growing and growing with performance quality and how we were interacting on stage. So we wanted to make this simpler and capture what happens when we set up in a room and play. We were a little bit more collaborative on the songs. We were writing in the sense of just sitting in a room or in a circle and just playing and writing. And in the studio we were fortunate enough to work with Ethan Johns, and he really encouraged us to record in the same way, so we set up in Peter Gabriel's studio in England and recorded a live take. It was kind of like making an album in 1968, capturing our sound and keeping it true and honest... We write in a kind of classic songwriting approach, and we're really trying to push the envelope as well and go for great parts and great hooks, but there's something really beautiful for us, to record in this way and in that environment. It was a really nice way to make music -- it seems obvious but can sometimes get forgotten about with all the choices in technology that's available these days.
Boy & Bear play Soda Bar on Tuesday, Nov. 17, at 8:30 p.m., SOLD OUT, 21+. Oh Spirit open.

Hannah Lott-Schwartz, a San Diego native, moved back to the area after working the magazine-publishing scene in Boston. Now she's straight trolling SD for all the music she missed while away. Want to help? Hit her up with just about anything at all over on Twitter, where -- though not always work-appropriate -- she means well.