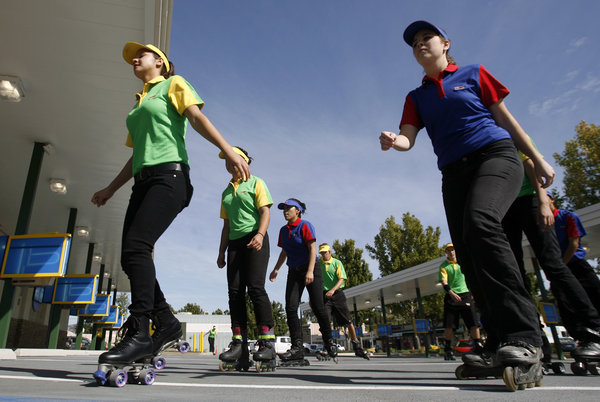 For some, the thought of a Sonic opening in the North County Monday provokes glee at the thought of Cherry Limeades, Tater Tots and Extra-Long Cheese Coneys. For others, it means a new job.
Yvette Garcia laced up a pair of clean white roller skates on Thursday as part of a two-day training program for more than 30 carhops at the new Sonic Drive-In in Vista, the North County Times reported.
The 17-year-old told the paper she's more accustomed to ice skates or Rollerblades, but chose the white 4-wheelers for work at the outdoor restaurant, which will open at 5:30 a.m. Monday at the corner of South Santa Fe Avenue and Main Street.
"For me it's a great first job," said Garcia, of Vista. "It's really exciting to be out here and around all these people."
Sonic restaurants are a throwback to 1950s drive-ins with no indoor dining. Customers can congregate on patios or order via car-side intercoms and roller-skating servers deliver their food.