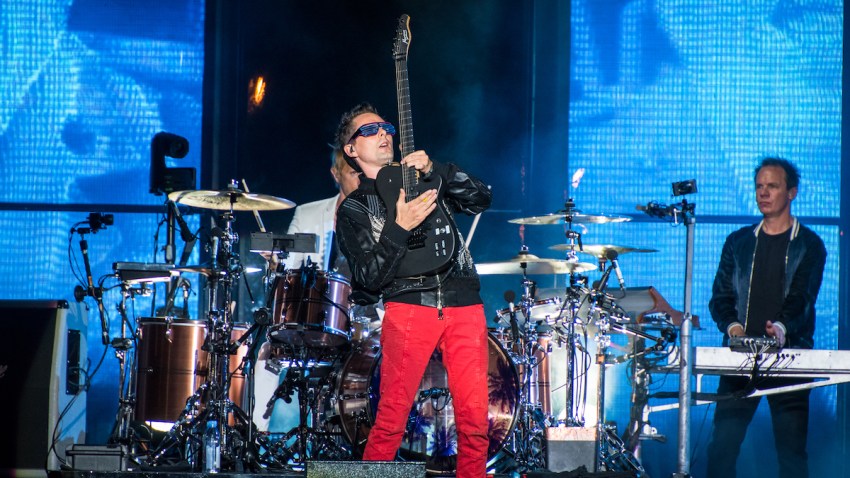 If "The Matrix" taught us anything, it's that Keanu Reeves looks pretty good in a trench coat -- oh, and that the reality we know is nothing more than a simulation.
Well, Muse seems to have learned the latter bit, because they've just announced their Simulation Theory world tour is kicking off on Feb. 22, 2019, in Houston, Texas, and coming through San Diego's Valley View Casino Center on March 5, 2019.
The Grammy Award-winning band, composed of Matt Bellamy, Dominic Howard and Chris Wolstenholme, has an album coming out -- appropriately named "Simulation Theory" -- on Nov. 9. Those who pre-order the album will get the first stab at tickets starting Tuesday, Nov. 13, at 10 a.m. Following that, tickets go on sale to the general public on Friday, Nov. 16, at noon.
If you really want to enhance your Muse experience, you'll want to check out these Muse Enhanced Experience and Premium Ticket Bundle options, which feature everything from a Microsoft mixed reality pre-show party (including three virtual reality games inspired by songs from the album) to premium concert tickets, posters, photos and more.
Would you expect anything less from a band that sounds like Thom Yorke got stuck in a Michael Bay movie? So, go on -- take that blue pill and enter the simulation.
Muse headline Valley View Casino Center on March 5, 2019. Get tickets here.
Rutger Ansley Rosenborg has been an Associate Editor at NBC SoundDiego since 2016. Find out more here, or contact him here.