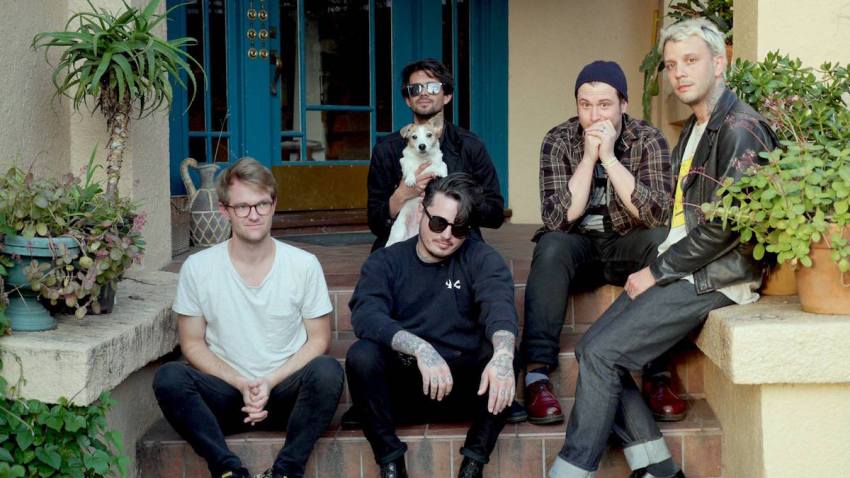 It's been a few years since brothers Andy and Jayme Ralph of Writer moved east to pursue arts careers, but we always hold them in high esteem in the San Diego music family. When a missing person flyer was circulating about Jayme a little over a month ago, the local music community kicked in high gear to spread the word far and wide. It turned out that Jayme had suffered something called an intracerebral hemorrhage, which caused a seizure. Without any of his personal belongings on him at the time, he was admitted to the hospital as a John Doe and later, the neighbor who had called for help saw the missing person posters and connected the dots. It's all horribly tragic and after a month, Jayme has been moved out of ICU and is breathing on his own and slowly returning to consciousness, but he has a long road to recovery and medical bills mounting in the meantime. Join the San Diego music scene in raising money for Jayme Ralph while catching Mrs. Magician, Hideout and Mt. Pleasant tonight at Soda Bar.
Friday, May 10:
Jayme Ralph Benefit Show ft. Mrs. Magician, Hideout, Mt. Pleasant @ Soda Bar
Gator By the Bay Festival @ Spanish Landing (3:30-10:30 p.m.)
The Bouncing Souls, the Bronx, Skinny Lister & Sharp Shock @ The Observatory North Park
Tiki Beat with Jason Lee & the Riptides, the Upshots, Alvino & the Dwells, more @ Bali Hai (6:30-10:30 p.m.)
SOB x RBE @ Bassmnt
Dream '19: Black Marble, Second Still, RiKi, Provoker O/X @ Casbah
Jefferson Starship, Alex DePue @ Belly Up
Western Settings, Static on the Stereo, Le Saboteur, City Windows, Dead Ven @ Tower Bar
"4U: The Music of Prince with Symphony" @ Jacobs Music Center's Copley Symphony Hall
Girlboy, Levi Dean & the Americats, the Spiritual Motels @ The Merrow
Fred Benedetti & George Svoboda @ Dizzy's
Groove In Da Heart Dance Party @ Whistle Stop
We Are Your Friends Indie Dance Party @ Blonde
Jesse Nova & the Second Line, Nevercomedown @ Bar Pink (8 p.m.)
BrokenBeat SD @ Space
DJs Dunekat and Rt @ Bar Pink (10 p.m.)
Ellis Paul @ AMSD Concerts (Sweetwater Community Church, 5305 Sweetwater Road, Bonita)
Besos Trio @ Panama 66
Lady Starbeast, Body Salt, the Colour Monday @ Black Cat Bar
Phil X & the Drills, Taz Taylor Band @ Brick By Brick
All Relation Fest with Quinten Hatchett, Kristopher, Z @ Che Cafe
The Walter Brothers @ Grand Ole BBQ & Asado
Headphone, MDRN HSTRY, Well Well Well @ Winston's
Jared Blake @ Moonshine Beach
Kayla Adams @ Moonshine Flats
Viscous @ De Oro Mine Co
Hot Mulligan, Belmont, Kayak Jones, Fredo Disco, Future Teens @ Voodoo Room, House of Blues
David Finckel & Wu Han @ The Conrad Prebys Performing Arts Center
Loud Village presents Electric Feels: Indie Rock + Indie Dance Night @ House of Blues
El Mariachi Los Camperos De Nati Cano @ Sycuan
Rumors: An 80's New Wave Synthpop Dance Night @ Manhattan Bar
Runaway June @ California Center for the Arts, Escondido
Rock En Espanol with Zenith @ Border X Brewing
Acoustic Revolt with Matt Caskitt and the Breaks, Bradley Palermo, Tim Holehouse, Ciaran O'Reilly, Never Pass Go @ Rosie O'Grady's
Crew D'Etat @ Seven Grand
SIRSY @ Bancroft Bar
Cassie B & the Stingers, the Naked I @ 710 Beach Club
Janice, Nathan & Tony @ Martini's Above Fourth
Salsa In The Loft @ The Loft, UCSD
Urban Gypsys @ Wildwood Crossing
Nite Lapse, Ignant Benches, Foxtide @ Public Square Coffee House
Johnny Deadly Trio @ Riviera Supper Club & Turquoise Room
Banda Tierra Sureña and La Gran Batalla @ El Gran Patron
All-Vinyl Happy Hour w/Monsieur Turbeau @ The Office (6 p.m.)
DJ Kidwonder @ U-31
The Siers Brothers @ Tio Leo's
La Original Banda El Limon @ La Luz Ultra Lounge
The Superior Hip-Hop Show @ Salty Frog
The Renegade Stage Runaway Band @ Renegade
Mercedes Moore @ Humphreys Backstage Live (5 p.m.)
Republic of Music @ Humphreys Backstage Live (9 p.m.)
Old Skool Band @ Navajo Live
Finesse, DJ Autumn @ V Lounge, Viejas Casino
Private Domain, DJ Autumn @ Lobby Bar, Viejas Casino
Hot Cakes with DJs Mister Hek and Siene @ El Dorado
The Spazmatics, Geezer, Radio Thieves @ Music Box
Todd Terry @ Bang Bang
Front Left 1-Year Anniversary Party w/ Clyde P, Kreature @ Spin
Loud Luxury @ Omnia
Scooter @ FLUXX
J. Alvarez @ Parq
Rosemary Bystrak is the publicist for the Casbah and writes about the San Diego music scene, events and general musings about life in San Diego on San Diego: Dialed In. Follow her updates on Twitter or contact her directly.