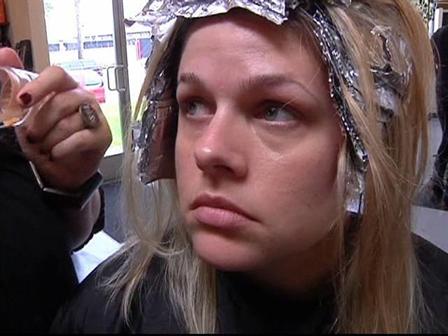 Kelly Davidson knows how to survive a deployment. Her husband Joe has been deployed for more than a year. This is the couples' fourth deployment. Joe is a Lieutenant in the Navy. He left for the war zone in February 2008.
"It makes you appreciate your husband. It makes you miss him," Kelly Davidson said.
Kelly has been home alone going to school and working on the fixer-upper Tierrasanta home they bought just weeks before Joe was deployed. "Now I'm feeling the crunch that he's about to come home and I can't look like this… I would like him to come home to the girl he first met eight years ago. The girl that cared about her hair and was physically fit," Davidson said.
With the help of some generous stylists, NBC 7/39 gave Kelly Davidson a makeover. The transformation happened at Thomas Joseph Studio in Kearny Mesa.
Stylist Kristie Voorhees began the makeover with some new color for Kelly's hair. She used different colored brown lowlights to brighten up the color around Kelly's face. Kristie also cut Kelly's hair, giving her some longer bangs to frame her face. It's the first time Kelly has had bangs in more than a decade.
After hair, Kelly got her makeup done by makeup artist Stephanie Conklin. Kelly was concerned about her tired eyes. "Cause I should be used to deployments but I really don't sleep well when he's gone," Davidson said. Stephanie Conklin gave Kelly a crash course in concealer then moved on to color. "She's got kind of a greenish blue eye so I think we want to go more of the coppers on her on the eye color," Conklin said.
Kelly Davidson was thrilled with the new look and was excited to show her husband upon his return.
"I've always had just long straight hair, nothing glamorous, so this will be a shock. I'm so excited. I can't wait to see him," Davidson said.
Kelly said her husband is scheduled to return home at the end of May.
Stay tuned for next week's 'Military Makeover Monday.' It's a new look for a mom who is going through an emotional first deployment.
Makeup Artist Stephanie Conklin can be reached at 760-443-4900 or skc.8105@gmail.com