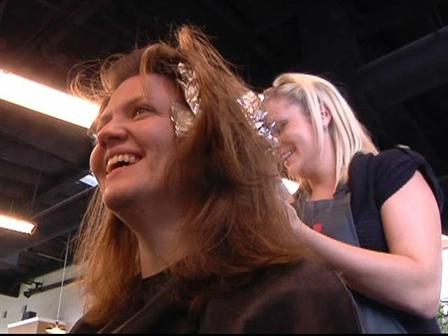 Jessica Ashmore and her one year old son Noah are a team. They're surviving their first deployment. Jessica's husband is a U.S. Marine Corps. Fighter pilot. He's been gone more than six months.
It's the family's first deployment. And it's been an emotional one for Jessica. "It has been an experience being a single parent…It's hard to be without your partner. You get married to be connected to someone and its hard to lose them for six months, seven months. And we don't have as long of deployments as some," Ashmore said choking back tears.
The separation has taken a toll but in just a few days Jessica's husband is coming home. To boost her spirits and her look, Jessica enjoyed a free makeover at Thomas Joseph Studio in Kearny Mesa.
Stylist Shannon Wood gave Jessica some red highlights and a hip-new 'bob' haircut.
Makeup artist Stephanie Conklin played up Jessica's smooth skin and big eyes with a smoky-bronze shadow, transforming her look.
Since our first interview, Jessica welcomed her husband home. She said she couldn't wait to share her new look. "It's great to have him back again both myself and my son are just having a wonderful time and appreciating the time we have and a makeover is just kind of icing on the cake," Ashmore said.
On next week's 'Military Makeover Monday,' meet a new mom whose husband was deployed soon after the birth of their daughter.
Makeup Artist Stephanie Conklin can be reached at 760-443-4900 or skc.8105@gmail.com