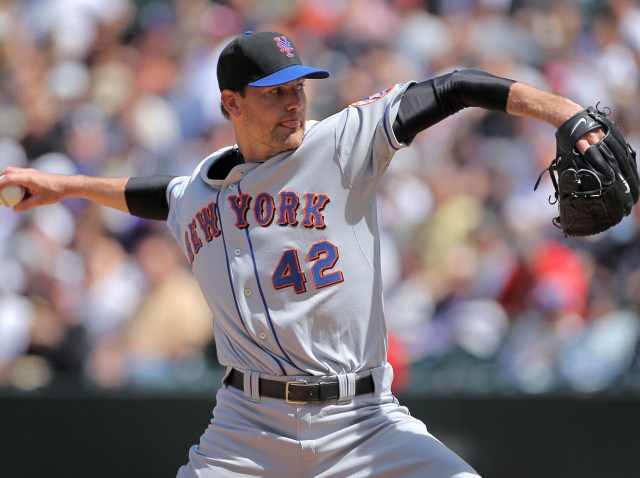 Mike Pelfrey did his part to make the New York Mets forget their embarrassing series-opening loss to the San Diego Padres.
Pelfrey quieted San Diego's bats one night after they did so much damage, and David Wright and Ike Davis homered to lead the New York Mets to a 4-2 win over the Padres on Tuesday night.
Pelfrey (8-1) won his fourth straight start by holding San Diego to one run and four hits in eight innings while striking out eight to match his career best and walking two. On Monday night, the Padres had 19 hits in an 18-6 victory.
"I was kind of like joking around, 'I'm glad they got everybody hot for me tomorrow,' " Pelfrey recalled saying in the dugout on Monday night.
"In all honesty, whatever happens, I think it's more about location. We made some pitches. They weren't the best last night and guys hit them, like they should," Pelfrey said.
The Padres (31-21) still have the best record in the NL.
The Mets, though, have a good chance to win the series since Johan Santana is scheduled to start Wednesday.
"He expects to go out there and dominate and that's what he's been doing," Wright said of Pelfrey. "With the 1-2 punch of Johan and Mike, I mean, it gives us a good chance to win two out of every five days. You know that when those two guys take the mound they're going to give everything they have and keep you in the ballgame. They expect to pitch deep in the game and dominate."
Wright's homer to left-center leading off the fifth was one of his three hits. He also had an RBI single in the first off Wade LeBlanc (2-4). Davis hit a two-run shot to straightaway center with two outs in the seventh off Edward Mujica. The homers were Wright's ninth and Davis' sixth. Luis Castillo was aboard for Davis' homer on a one-out single.
Pelfrey limited the Padres to just three baserunners until the sixth, when Tony Gwynn Jr. walked, advanced on pinch-hitter Lance Zawadzki's groundout and scored on David Eckstein's double down the right-field line.
Pelfrey is 4-0 with a 1.26 ERA in his last four starts.
"You can see why he's had so much success this year," Hundley said. "He's tough and that splitter he throws is really good."
Francisco Rodriguez allowed one run on three hits in the ninth before striking out Jerry Hairston Jr. and Chris Denorfia with runners on first and second to earn his 10th save in 12 chances. San Diego's Nick Hundley hit an RBI single, his third hit.
LeBlanc continued to struggle. He allowed two runs and seven hits in 5 1-3 innings, walked four and struck out four. Manager Bud Black made a mound visit just five batters into the game, after Wright hit an RBI bases-loaded single to center. LeBlanc then retired Angel Pagan on a fly to center to get out of the inning.
"I just got behind too many hitters," LeBlanc said. "It puts me in a corner. I just wanted to keep us in the game and give us a chance to win."
LeBlanc is 0-4 with a 6.43 ERA in his last four starts, allowing 24 hits in 21 innings. He's allowed five homers in three starts after allowing none in his first six starts.
Copyright AP - Associated Press