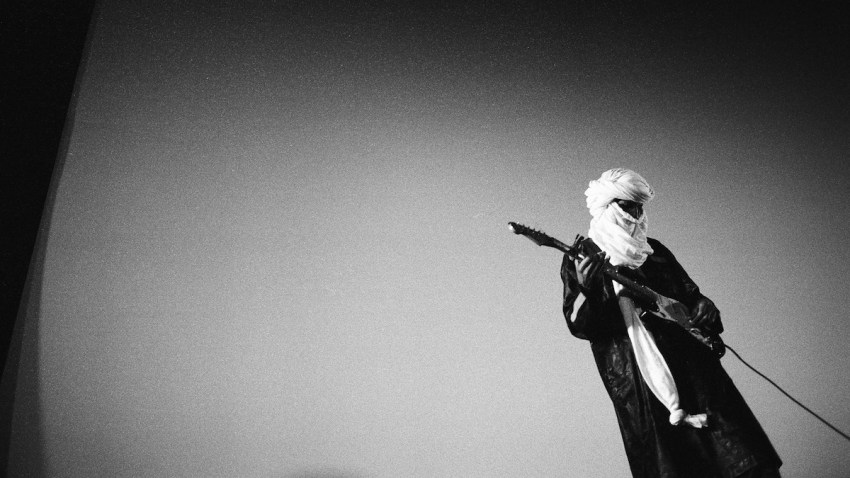 From Tinariwen to Bombino and Imarhan, the Tuareg people -- a Berber ethnic group populating Libya, southern Algeria, Niger, Mali and Burkina Faso -- have offered a lot to Western audiences in the last few years, introducing Europe and the U.S. to the web-like guitar work of the Tichumaren genre.
Mdou Moctar, born in Agadez, Niger, in 1986, is the next torchbearer in line.
According to Moctar, with whom I corresponded over email last month, he didn't hear music until he was six years old.
"In my youth, I lived with my family, and I went to school. My family was very religious, and music wasn't that common in the area where I lived. I left the village and went to Arlit, in 1992, where I continued my studies. That's where I first heard music," he said.
Mdou Moctar's new album, "Ilana: the Creator" is available here and on all streaming services.
In an inevitable cultural exchange, some of Moctar's favorite musicians ended up being freewheeling American guitar heroes, from Eddie Van Halen to Jimi Hendrix. Fortunately, the self-indulgence of Western guitar slinging has never threatened his selfless approach to music.
"The importance of the religion in my music is always to be good to people. Islam is a religion that teaches us to be peaceful and always kind to others. This is what I take out of my religion and try to channel in my music," Moctar said.
"I'm just one voice. But I always want to make people happy, and make them stand together.... My objective is to transmit a message throughout the world, what happens where I live, the suffering of women and children, the need of education and the social problems," he added.
For Moctar, he can't help but make his music political, because everything that touches where he lives is political, according to him.
Mdou Moctar headlines Casbah on Sunday, April 21. Get tickets here.
Rutger Ansley Rosenborg has been with NBC SoundDiego since 2016. Find out more here.