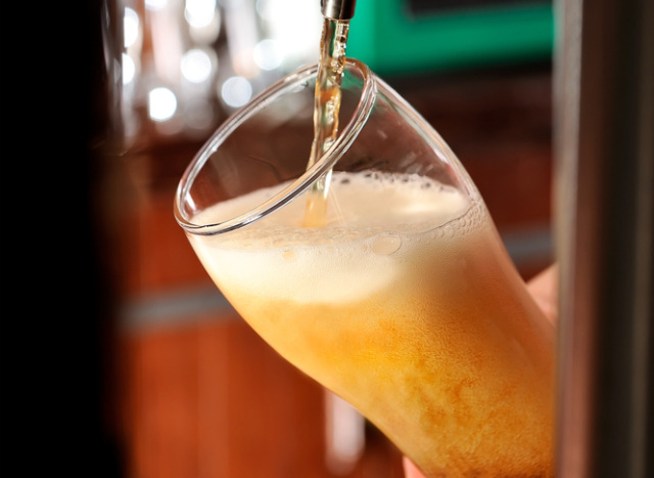 McFadden's Restaurant and Saloon, the "Wildest Irish Pub on Earth," is moving to sunnier pastures. The predominantly East Coast party bar is arriving in San Diego October 2011.
San Diego's newest soon-to-be party-pub staple, McFadden's Saloon, is a 10,000 square-foot tavern for crowds seeking an unpretentious party. From bustling happy hours to wild late-night revelry, patrons can let loose around the 100 foot mahogany bar (perfect for dancing on), enjoy all their favorite sports games on over 40 HD TVs, or kick back in the 2,200 square foot 2nd floor open air patio, complete with private bar, outdoor TVs, lounge seating and bottle service.
McFadden's Saloon will open its doors Thursday, October 6th for Grand Opening festivities, including a private VIP Reception at 6pm, with doors opening to the public at 8pm. Hold on to your shamrocks -- they spare no expense or sentiment for their weekend lineup -- from leprechauns, bag pipers, and Irish Car Bomb Races, to the 2-day Calendar Girl Search beginning on Friday, October 7th with a full panel of Playboy Playmate Judges including Jayde Nicole, 2008 Playmate of the Year. You can't miss the Calendar Girl Finals on Saturday, October 8th, where ladies compete for over $1,000 in cash and prizes with celebrity host, and pop-culture icon VANILLA ICE.
Already famous in cities such as New York, Boston, Chicago, DC, Philadelphia, and Las Vegas, McFadden's San Diego will be open Monday thru Friday at 4p and Saturday and Sunday at 9a and staying open 7 nights a week until the last shot of Jameson goes down! McFadden's beautiful and charismatic Lucky Charms and jovial Ministers of Hospitality will ensure everyone has an unforgettable experience, whether there to watch a game, grab a great meal with friends, or simply throw back a cold one with resident DJ's Thursday through Saturday.
McFadden's Restaurant and Saloon is located at 731 5th Avenue San Diego, CA 92101 in the Gaslamp Quarter. To RSVP for the Grand Opening Guest Lists, call 619.795.2500 or find them online at www.McFaddensSanDiego.com.