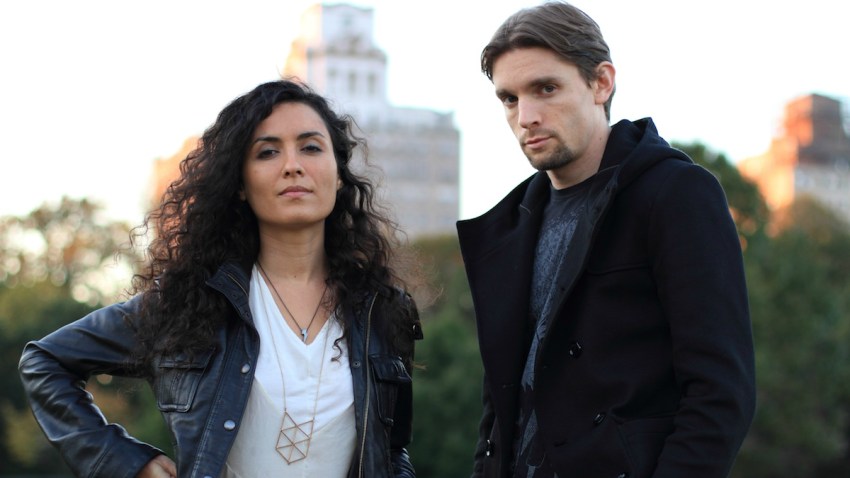 If you've been paying attention to the current state of affairs in music, you've most likely witnessed the revitalization of dark, melancholic electronica over the last few years. Artists like James Blake, Banks, Grimes, FKA Twigs, Flying Lotus and the Weeknd are only a few notable artists taking the style to new heights. Go ahead and add Brooklyn's the Mast (who headline Soda Bar on Jan. 22) to that cast of players.
Earlier this year, the NYC duo (singer Haleh Gafori and multi-instrumentalist Matt Kilmer) released "Pleasure Island," [listen here] a brooding masterpiece of a record made up of hypnotic melodies, ethereal atmospherics and rhythms that alternate between trip-hop break beats and glacial downtempo percussion. Along with fascinating music videos (edited and directed by Gafori herself) for their singles, "UpUpUp," "Luxor," "So Right," "Nuclear Dragon" and "Emerald," the band is clearly on the forefront of artists that present the perfect package of both visual and audio elements.
Strangely enough, as great as their latest album is, it's a far cry from their 2012 debut, "Wild Poppies," which heavily featured electric guitar and the tribal sounds of Kilmer's live drums instead of digital synths.
"They're vastly different for sure," Gafori told SoundDiego recently, referring to the two records. "'Wild Poppies' was mainly us just playing our instruments. We only overdubbed a few extra vocal lines, but we were both in the studio playing at the same time and recording it live. But then we got into manipulating those sounds electronically. Matt's been playing electronic music for a long time, so it was a natural progression."
It turns out the group had difficulty replicating the recordings from their first album at gigs.
"When we took 'Wild Poppies' into a club, it was hard to get those sounds," Gafori said. "We were using really specific types of drums that weren't necessarily meant to be pushed that much in a rock club. But when we decided to throw an electronic song in the set, it sounded so great live. We were able to have complete control."
Not content to work within the confines of the typical write/record/tour cycle, the Mast seem to enjoy presenting music to their fans in a relatively newfangled way.
"We do live streaming sessions in our studio," said Gafori. "We've done a couple shows like that recently, and it's been great. We set up the computer and the camera, and people can watch it anywhere. They've been a mixture of live drums and electronica -- we've been bringing the two styles together. Later this year, we'll pick the best stuff from those sessions, develop the songs a little bit more and release an EP with them."
Riding a massive wave of buzz, the group, it turns out, has a couple fans you may have heard of: Reggie Watts and Louis C.K.
"Reggie's a good friend of ours, and he's amazing," Gafori said. "It's funny because we'll hang out before a show and start talking about the architecture in Williamsburg or something -- and next thing we know, he's onstage, referencing that in one of his songs. Everything he does onstage is completely improvised. It all happens in the moment. He just rides this cosmic wave."
Apparently, before the first season of "Louie," Louis C.K. called up Watts and asked him to do the music for his show. But it turned out that C.K. wanted to go the jazz route, so the experimental comedian/musician turned to his friend Kilmer.
"Matt has played a lot of jazz throughout his life," Gafori explained. "He's been jamming with a lot of jazz guys for many, many years. So he called up some friends to start jamming, and when Louie heard them, he was just ecstatic. When Watts ended up getting the call from Conan to join him on his 'Legally Prohibited from Being Funny on Television' tour in 2011, the job of musical supervisor fell into Matt's hands. They've been working really closely together for four seasons now. A lot of people think all the music in that show is licensed, because it all sounds like it's from different time periods: Afrobeat, '60s rock, bossa nova, vintage jazz -- but it's all composed and played live by Matt and the show's band, SweetPro."
Albums, music videos, live streaming, hanging with Reggie Watts, scoring "Louie" -- it seems like they've done everything, except play San Diego.
"We've played the West Coast before," Gafori said. "Our last time out there was at the end of 2013 when we were on tour with Blonde Redhead. But the Soda Bar show will be the first time the Mast plays San Diego. We're definitely looking forward to defrosting in California [laughs]."
The Mast play Soda Bar on Jan. 22, with Lightworks and Bakkuda opening. The show starts at 8:30 p.m. and is 21+. Tickets are available online here.

Dustin Lothspeich plays in Old Tiger, Diamond Lakes and Boy King. Follow his updates on Twitter or contact him directly.