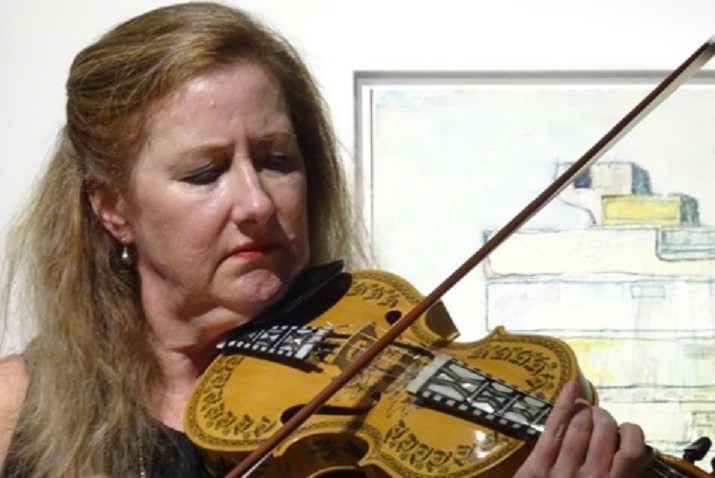 On Dec. 17, new-music promoter Bonnie Wright hosted a solo string concert by the marvelous Mary Oliver, who lives in Holland but is originally from San Diego. Oliver filled the room at the San Diego Art Institute with enthusiastic fans, including some the area's finest musicians, all gathered to take in the sound of her violin, viola and Hardanger fiddle (an eight-stringed folk instrument with a special sound.)
Oliver began the evening on the violin with an untitled improvisation that leaned heavily on an aching glissando, piercing vibrato and hair-raising, dissonant intervals. Oliver has a gorgeous sound and a thorough command of her instrument, upon which she explored with considerable force and detail.
Next up was a mash-up that combined Misha Mengelberg's "Hypo X-mas Tree Fuzz," with John Coltrane's "Countdown," certainly one of the oddest pairings I've ever experienced, although in Oliver's hands, even the most drastic shapeshifting seems totally organic. Especially hilarious, in this context, was her sly appropriation of "We Wish You A Merry Christmas," inserted at just the right moment.
Oliver continued to morph disparate elements into a strangely satisfying gumbo, such as (on viola) the slow beating of close intervals and ponticello bowing that joined Eric Dolphy's "245" with her own "121."
Oliver closed the show with a joyous spin through the folkish territory of the Hardanger fiddle, a Norwegian instrument that she exploited with a mix of pure-sound-beauty and raw energetic ebullience.
Highly satisfying on multiple levels, Bonnie Wright's "Fresh Sound" concert series continues to inspire, and Mary Oliver is an artist that rewards careful attention.

Robert Bush is a freelance jazz writer who has been exploring the San Diego improvised music scene for more than 30 years. Follow him on Twitter @robertbushjazz. Visit The World According to Rob.