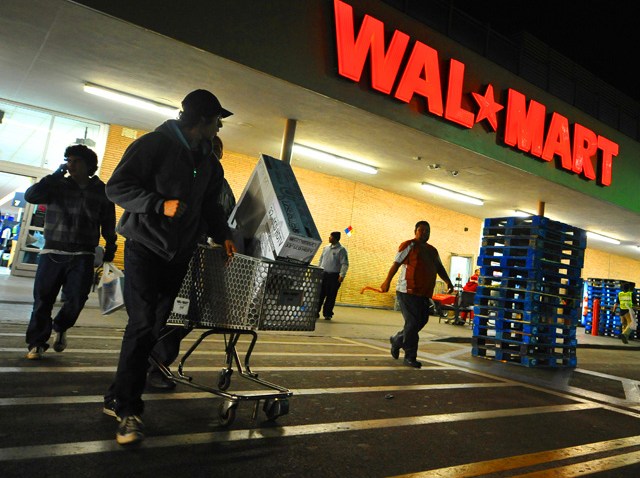 Die-hard shoppers made a mad dash for bargains Friday morning, after waiting in line for two days, in some cases.

Black Friday is much a Thanksgiving tradition as the turkey and keeps shoppers lining up year after year. The line at Frye's in Mission Valley was wrapped around the building Thursday night. Cesar Ortiz had already been in line for about 24 hours.

"Everybody was kind of pointing and laughing for awhile," Ortiz said. "I got here at 7 p.m. last night."

Clay Dunsmore got to Mission Valley at 3 a.m. on Thursday morning and has done so four years in a row, with his wife's permission, who happened to call in the middle of our interview.

"I think you're crazy," she told her husband over the phone.

"We were here yesterday," Steve Ramsey said Thursday night outside Best Buy. It's a family tradition. "We've been doing this for actually quite a few years. I brought an air mattress this time."

We see the ads every year, but something is different this year. In response to a worker being trampled to death in Long Island last year, Wal-Mart is keeping stores open 24 hours to avoid the rush at the door. Other stores have added security.

But why would anyone sleep outside a store for two days? Is it really worth it?

"We've been waiting all year," Ramsey said.

Waiting and saving all year for items some couldn't otherwise afford.

Clay Dunsmore did the math and figured he's saving about $40 - $50 per hour waiting for a TV.

"If that's how it averages out. I'll take it, because as a teacher, it's hard to afford a 32 inch or 42 inch," Dunsmore said.

To appeal to those family's hit hard this year, some stores like Wal-Mart, and Toys-R-Us are trying to lure in customers with more practical deals on things like underwear and socks.