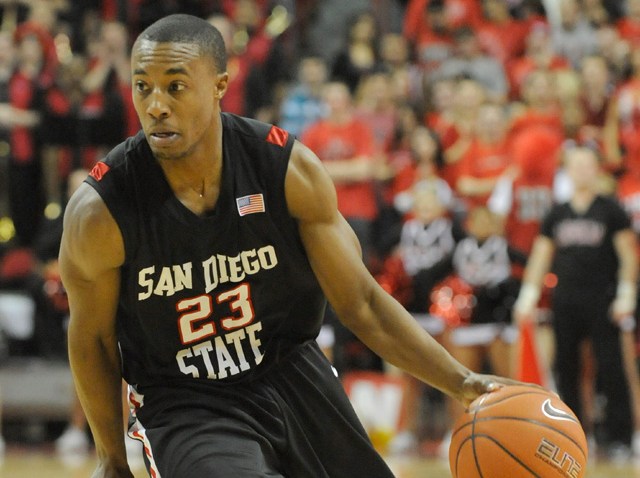 Being undefeated and ranked in the Top 25 is still a radical new concept for the San Diego State Aztecs.
"I knew things changed when I walked to the game and I saw somebody out with a sign, 'I need tickets,"' guard D.J. Gay said after the No. 14 Aztecs rallied from a slow start to beat San Diego 77-49 on Saturday night. "I knew we were doing something special here. We're enjoying this ride and it's going to be a good one."
The Aztecs improved to 10-0 for the first time in school history.
Malcolm Thomas scored 11 of his 20 points during a 16-3 run to close the first half, Gay had 16 points and sophomore Kawhi Leonard had 13 points and 13 rebounds for his seventh double-double this season and the 24th of his career.
The Aztecs drew their third straight sellout crowd of 12,414 at Viejas Arena. Prior to this season, they had only eight sellouts in their history.
More importantly, they had a 30-5 run spanning halftime to make up for another slow start.
San Diego State fell behind 25-18 on Darian Norris' 3-pointer with 5:35 to go in the first half before launching its comeback to take a 34-28 halftime lead. Thomas had 11 points during the 16-3 surge, including a three-point play, a slam dunk, a strong move inside for a bank shot and four free throws. Thomas scored 18 in the first half.
SDSU then scored 14 of the first 16 points in the second half, including three 3-pointers by Gay.
"That's kind of been the story of our season lately, whether we get off to a slow start or a fast start, the second half has been our powerhouse," Gay said. "Usually, most of our runs come in the second half. The second half seems to be our half."
San Diego State has outscored its opponents by 13 points or more in the second half in seven games. It led California by two at halftime on Wednesday night at Berkeley before winning 77-57.
"They're a team that can be playing along and all of a sudden they make these runs," USD coach Bill Grier said. "You try like heck to stop the bleeding but they get you rattled and all of a sudden it's like the Lakers. There is not much you can do about it."
Said Gay: "We would love to get off to a better start, but the game's not going to always go the way you want. We're going to take our runs whenever they present themselves."
USD (1-8) lost its eighth straight game. The Toreros' only victory was in the season opener against Division III Occidental. Ken Rancifer and Trevor Fuller scored 12 each for USD and Chris Gabriel had 10.
USD surprised the Aztecs by taking the lead midway through the first half. Rancifer scored 10 straight points for the Toreros, including two 3-pointers, for an 18-14 lead.
"I think that we wore them down with our athleticism and size, and that is what you have to be able to do," SDSU coach Steve Fisher said. "I obviously would like to have a 20-point halftime lead, but we still have to go out and compete hard. I told them at halftime that the difference between competing and really competing at your best is just that much. That's what we were doing until about 2 minutes left in the half when we had a spurt, and the next thing you know we're up six at halftime. We finished with a flurry and had a good feeling about ourselves going into the half."
Copyright AP - Associated Press