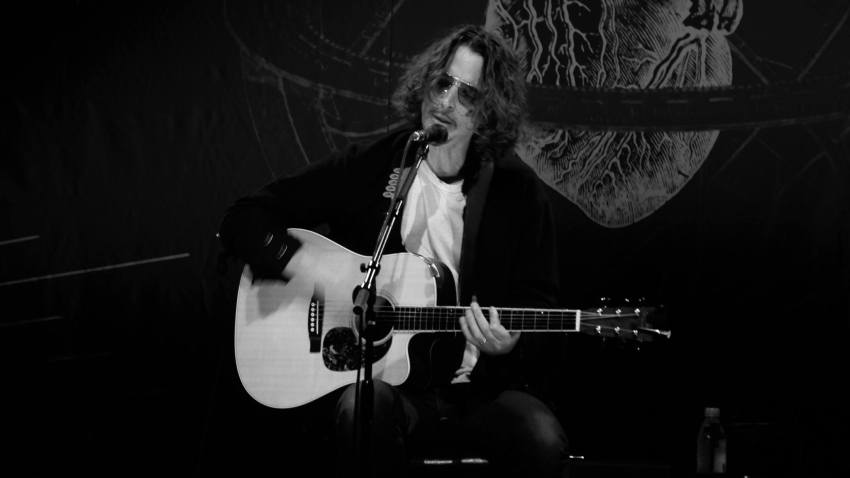 When Chris Cornell, frontman of the famed '90s grunge band Soundgarden, took the stage at the Balboa Theatre Friday, Sept. 18, he told the crowd that his last solo tour, two years ago, started in San Diego.
"It was the best show of the tour," he said, and explained that was why he decided to start this next one here too.
Cornell played for more than two hours, a mix of songs off his new album, "Higher Truth"; acoustic versions of hit songs like Soundgarden's "Black Hole Sun," "Like A Stone" (from his Audioslave days); and several covers.
There was John Lennon's "Imagine" as well as Cornell's version of Dylan's "The Times They Are a Changin'," on which he also played harmonica.
Some didn't work as well as others: Cornell sang a snippet of Schubert's "Ave Maria," for which he has the vocal chops but not the memory -- he had to read the lyrics off a piece of notepaper. For his version of U2's "One," Cornell rewrote the lyrics, turning the song into a bleak ode to the soldiers of World War I (get it -- "One" and 1?).
But for most of the show, Cornell's signature rock & roll voice -- alternately capable of a low, slow-burning growl and the highest falsetto -- was the star. His best moments included an impassioned rendering of "Josephine" -- a beautiful song that is, essentially, a musical marriage proposal -- and a spare, lovely version of "Nearly Forgot My Broken Heart," performed with musician Brian Gibson on mandolin.
Both of those were from the new album, but even a well-worn song like Soundgarden's "Fell on Black Days" was reborn acoustically during the show as a moving and mournful rumination on depression.
Cornell, stripped down to just himself, a wooden stool and his guitars, showed the audience the full range and versatility of his talent -- as a singer, songwriter and musician.
Eilene Zimmerman is a SoundDiego contributor.