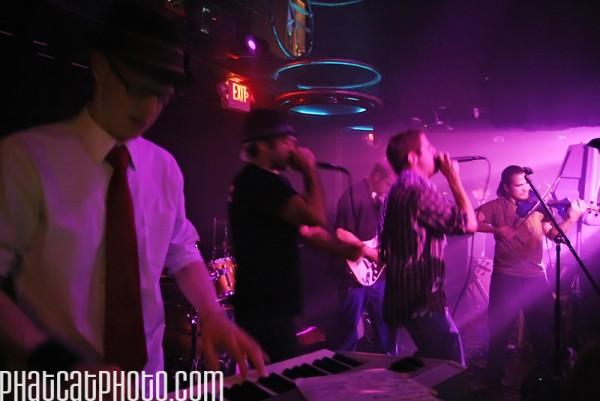 In the rough economic times today and looking ahead to tomorrow, live entertainment is often the first expense to be washed and whittled away down to the smallest specimen. If you are like me this comes after groceries, gas and all things shopping-related (sad face).
For less than $20 and often $10, hit up any one of the many famous and infamous San Diego locales serving up a cornucopia of musical genres to satiate your melodic appetite.
So much to choose from, why not list all the shows here and call it a day? Well, we are going to focus on one local show each week (ambitious?) involving a LOCAL San Diego band, group, duo, trio, solo etc. We encourage SD Locals, get to know 'em and see the show!
This Week's Live & Local Feature Show
BLVD @ Canes w/ Break Science feat.
Adam Deitch
&
Vokab Kompany
(ding ding ding LOCAL GROUP!)
Wednesday, March 11 at 9 p.m.
3105 Ocean Front Walk, Mission Beach
Tickets $10
The Local Players:
Vokab Kompany
; founded in San Diego in 2007, fathered by Emcees/singers Robbie aka
Rob Hurt
and Matt Burke-y (baybe). These guys came together, having known each other from their Tahoe, CA high school days. Each had his own music endeavor in the years leading up to Vokab's commencement, but ever since collaborating on VK's debut
Liquid Language
, 2007 they have been focused on releasing the second album, out in April/May this year, thoughtfully dubbed,
The New Kong
.
Vokab not yet signed, but strongly independent, is really coming into its own. They are partnered with the very talented band TSG (Tonight's Special Guest), bringing years of musical experience and diversity to the
Vokab Kompany's
brand of sound. A sound whose genre goes something like; hip-hop, soul, electro, funk. You have two Emcee's who charge sped-up lyrical flows; made to sound effortless. Rob & Burkey have realized an impressive and seamless synergy with their voices and their lyrics are playfully vivacious and positive. Set those lyrics atop the 5 piece band, layered with creative electro beats and it makes for a very fun and a dance-worthy music experience. And if you still are standing still at one of their shows, there are a couple of talented ladies (Suze Q and Jenny Jen) putting go-go girlies to shame with their energetic moves.
Burkey Baybe & Rob Hurt
- Vocals, production; Alvaro Nunez- Drums; Aaron Cheatham- Bass; Geoff Nigl- Keyboard/Production; Spencer Sharpe- Violin; Jeremy Holmes- Guitar; J.Watt- Production; Tait Henrickson-Virtuous Studios, National City
The Show:
BLVD with Special Guests, Break Science featuring Adam Deitch on drums. That mouthful of a title is rightfully loaded with as much talent.
BLVD
, based in San Francisco and originally an instrumental group, is now joined with vocalist/MC, Souleye. Their marriage of live instruments, electro production techniques and Souleye's rhythmic, liquid flows, create a unique sound that is a fresh take on what you expect in a live nightclub show.
BLVD'S latest album
,
Music For People
is really a proper introduction to their sound plus Souleye. Have a listen and you'll appreciate the faultless convergence of music, production, and lyrical elements that create ultra fresh and fun tracks.
Dylan McIntosh
-Drums/Samples; Curtis Sloane-Electronic Guitar/Samples; Tripp Bains-Bass/Keyboards; Souleye- Vocals
Break Science
hailing from NY, comes to San Diego with reputation and precedence to boot. Adam Deitch, drummer, producer and brainchild of the group has lent his talents to the likes of Justin Timberlake, DJ Quik and
Wyclef
. His musical accolades make a long list including touring and recording with jazz legend John Scofield. Collaboration is the name of the game for Break Science. They are comprised of some awesomely talented musicians and producers, and cross over the genre board, playing with hip-hop, rock, pop and jazz. Their hip-hop, dub, drum & bass and trip-hop sounds
are likened to a "live mix tape,"
Adam Deitch
- Drums and Samples; Borahm Lee- Keyboards and Effects, co musical director; Stu Brooks- Bass; Adam 'Shmeeans' Smirnoff- Guitar, samples; DJ Gravy-turntables, cuts; Jah Dan- Vocals
More about Vokab Kompany
Vokab Kompany records and produces locally in San Diego at Virtuous Studios in National City. Vokab has performed all over California. Some recent highlights are; opening for Thievery Corporation at Sea of Dreams in
San Francisco
(Dec 08); playing on a three city CA tour with the Artistic Stimulus Package (Confluence Group & Flaunt Magazine- Jan 09). Most recently, they were invited to San Diego's Serra High School to speak and perform in front of the student body of 2,500 (Feb 09).
Vokab Kompany are lovers of collaboration, and their 09' album The New Kong will feature collabs withLateef the Truth Speaker, The Mutaytor, and Souleye and DC of BLVD. They have a loaded Spring season ahead, including a Nor Cal/ Nevada tour through Reno, Tahoe, Nevada City and San Francisco (April), plus the release of The New Kong, their anticipated sophomore album. AND they will have an upcoming single featured in a national commercial. There's a lot of brightness ahead, wishing the best of luck to you boys!
'We're now the musicians, investors, and distributors. Producers independently reflecting our perspective, yep." Vokab Kompany