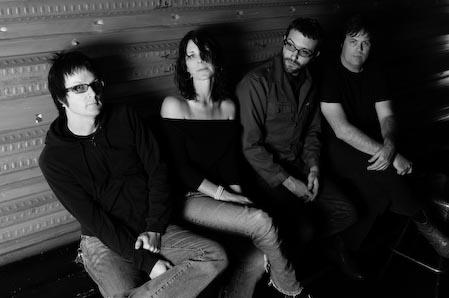 Let's return to the local bars this week. Where the floors are a little sticky but the booze is cheap and people-watching is in full spring swing.
After a week full of threats of pandemic illness burgeoning out of every media outlet and all the 'First 100-day' chatter, and of course the tailspin stemming from the opinion of one MIss Cali, how's about we keep it simple this week? Simple, but rock 'n' roll… This week's feature show and bands are easy-listening, not in the fashion of Kenny G, but in that the bands play good music, have distinctive sound and the spot follows suit as a sociable but not sceney establishment. So far so good? Read on...
The Local Players
Lisah, Porter and Mark compose the group, fronted by a female guitarist/ vocalist with Porter on bass and Mark on drums. Their sound is a sought-after one, Lisah produces dreamy, girlish vocals that delve into throaty pop-rock. Twinkling keys that could calm you into REM, give way to swarthy rock interludes. It's a nice package, simple yet thoughtfully stirring. Lisah nails the dewy-eyed ingénue meets groggy, Xanax-induced rocker chick voice. It's that 'je ne sais quoi' that just accomplishes what so many cannot. A.M. Vibe released their second record, Carpicorno (Planting Seeds Records) at the end of March.
"We all have day jobs, but would be more than happy to give them up if we were able to support ourselves via our music. We have a strong drive to write, perform, and records music which keeps us going despite the fact that we all have to wake up and go to work in the morning…..but who knows…if enough people get interested, anything could happen."
The band is early in age together, formed as Better Class of Flying Man in early 2008. Coming together through past experiences, friends of friends and the ever-trusty Craigslist. Charmingly practical, the band admits to listing a classified for a drummer once it dawned that a drum machine could not pitch in for beer. They love building their music and have an unbridled affection for beer, a combo that draws a parallel to the playful and mischievous intelligence that shines through in their sound.
From the guys of Better Class of Flying Man on what to love and not to love about being a San Diego band…
What is great about San Diego is that we have such a vibrant and diverse musical scene...We like most of the venues we've played; sometimes it feels like the audience is the other bands you're playing with that night, but when you have the pleasure of playing with great local bands such as Irradio, Wizard Wolves, The Alpha Channel, Incomplete Neighbor, and A.M. Vibe, that's not so bad. The other side of that would be that there are so MANY great venues in town that it can spread the fan base a little thin.
So please swell the fan-base and go see the show! Happy local listening…