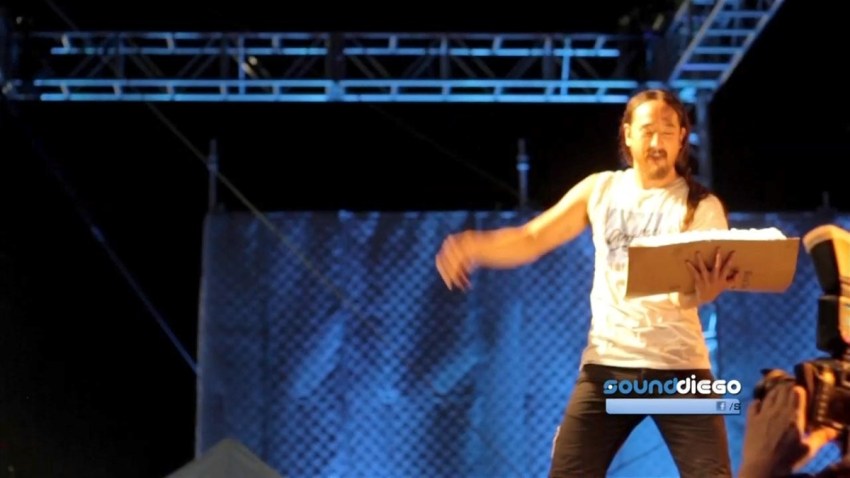 Friday, Surfer Blood headline a sold-out show at the Casbah; Guttermouth, Counterpunch, Caskitt and Castoff are at Soda Bar; Con Brio and Taurus Authority hit the Merrow; Back in Black: A Tribute to AC/DC with Kissed Alive & Cheapest Trick take over the House of Blues; Zombie Barbie, Vaginals, Tactical Fever and Butler hit the Ken Club; and Paul Thorn and Nancarrow are at the Belly Up. Plenty of dance options, including Steve Aoki, Headhunterz and Caked Up at SOMA (sold out); Death Nation at Spin, featuring Joe Letz of Combichrist; Steampunk Soiree! at Queen Bee's; F---ing in the Bushes, with DJs Rob Moran and Daniel Sant at the Whistle Stop; Bassjackers at Bassmnt; Autograf at Bang Bang; and Colour Vision & Louis the Child with the Latin Lovers at the Hideout.
Saturday highlights include Mac Sabbath and Black F-- at the Hideout; Lucinda Williams at the Observatory North Park; Steve Poltz's 50th Birthday Bash, with the Rugburns, Mr. Gregory Page, Tim Flannery and Bushwalla are at the Belly Up; the Parlor Mob, Gods and Spero rock Soda Bar; Wild Child, Desert Noises, Goodnight and Texas take over the Casbah; the Routine hit the Rabbit Hole; the Gods of Science play at Main Tap Tavern; and Gloomsday headlines at the Tower Bar. For your dancing fix, check out '80s vs. '90s at the Whistle Stop, with DJs Gabe Vega and Saul; Neon Beat with the Best & Worst of the '80s at Bar Pink; Tropicana with Whiiite at Fluxx; Dannic at Bassmnt; or Mike Mago at Bang Bang.
Sunday, Cursive headline a sold-out show at the Casbah; Jim Adkins of Jimmy Eat World is doing a sold-out acoustic show at Bar Pink; and Gregory Alan Isakov at the Irenic is also sold-out. Other options include the Mary Onettes, ÆMPIRE and Sundrop Electric at Soda Bar; Zap Mama and Antibalas at the Belly Up; and El Tri with Marujah at the Observatory North Park.
Have a great weekend and I'll see you on the dance floor!

Robin Roth is a familiar voice in the San Diego scene. She is on the air weekdays from 10 a.m. to 2 p.m. on 91X, plus she promotes and spins all over town. Follow Robin on Twitter or submit your DJ listings here.