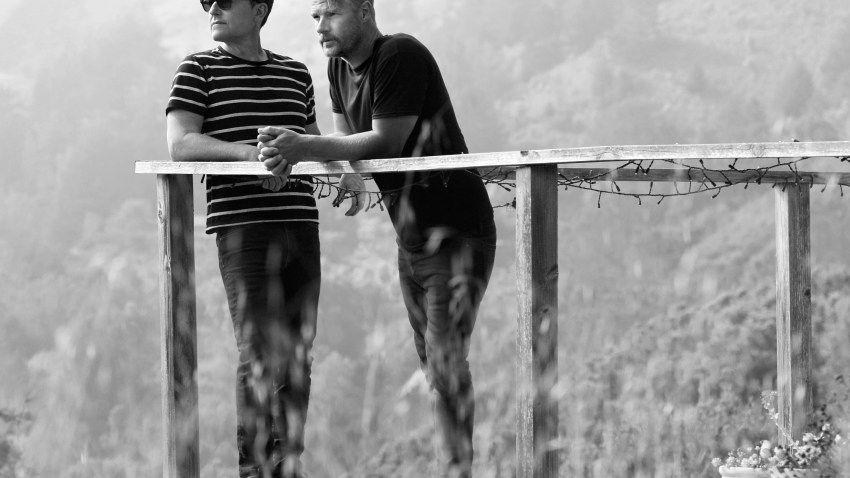 I know we had water falling from the sky this week so sometimes we turn into a collective wicked witch and avoid it at all costs, but I assure you there are plenty of reasons to let your hair frizz and surrender your flip-flops for better foot protection this Friday night if it rains (forecasts say it shouldn't though). At the Irenic, catch electro-rock duo Lemaitre, whose performance at Austin City Limits left fans and critics talking. Wheeler Walker Jr. is back with another sold-out show, this time at the Observatory North Park. Instrumental post-rock duo, El Ten Eleven, return to the Casbah for the first of two nights on the heels of their 10th release, "Banker's Hill" (read the SoundDiego interview with the band here). Moon Honey, meanwhile, return to Soda Bar; Led Zepagain play a sold-out show at the Belly Up; and Bar Pink hosts a local show with Dethsurf. Grab a jacket, maybe an umbrella (if you're feeling extra cautious) and soak up some music.
Friday, Nov. 30:
El Ten Eleven, Tennis System @ Casbah
Lemaitre, Jumbotron @ The Irenic
Wheeler Walker Jr., Rory Scovel, Jaime Wyatt @ The Observatory North Park (SOLD OUT)
Moon Honey, Hexa, Spooky Cigarette @ Soda Bar
Led Zepagain, Ultimate Stones @ Belly Up (SOLD OUT)
Dethsurf, the New Kids, the Rebel Set @ Bar Pink (8 p.m.)
Buddha Trixie, Bad Kids, Ignant Benches, Stray Monroe, Former, Foxtide @ SOMA
Kottonmouth Kings, Crazy Town, Izzy Projectz, Sylint, Dread Pirate @ Brick By Brick
DJ Rocket Rio's Pop Dance Party @ Bar Pink (11 p.m.)
Death By Dancing with DJ Jon Blaj @ Whistle Stop
The Ten Tenors @ California Center for the Arts, Escondido
Peter Asher & Albert Lee @ Museum of Making Music
The Bi-National Mambo Orchestra presents TP Meets PP @ Dizzy's
We Are Yr Friends @ Blonde
Poncherello @ Belly Up (5 p.m.)
Rob Deez, Rebekkah Darling & Paul Tillery, Jonny Dee @ Backdrop (formerly Java Joe's)
Hapax, Void Lust, Post Tropic @ Black Cat Bar
Tony Orlando @ Sycuan
Elektric Voodoo, Fresh Veggies Micro Brass @ Winston's
Beach Bums, 3LH, El Chisme @ Lestat's
Jeff Pekarekã @ Templar's Hall in Old Poway Park
Jake Rose Live @ Moonshine Beach
Martin McDaniel @ Moonshine Flats
BJ Jezbera, Wes Maharas @ De Oro Mine Co
Daniel Shibuya, Melodik Tribe, David Twist @ The Che Cafe (7 p.m.)
Groove International @ House of Blues
Band of Friends: A Celebration of Rory Gallagher featuring Davy Knowles, Gerry McAvoy, Ted McKenna @ Ramona Mainstage
Rock En Espanol with Zenith @ Border X Brewing
Fear of Noise ft. Violencia, Headdress, Frantic, Agonista, All Beat Up @ Tower Bar (9 p.m.)
Becca Jay Band @ Rosie O'Grady's
Cage, Great Electric Quest @ Pour House (10 p.m.)
Bonneville 7 @ Pour House (5 p.m.)
Nite Crawlers @ Pour House
Silver Talon, Speed Claw, Malison @ Bancroft Bar
Casual Yak, AJ Froman, Electric Elms @ 710 Beach Club
Sophia Alone @ Martini's Above Fourth
Cool Party Bro ft. Heminguey & Ikah Love @ The Office
Senema @ U-31
Ass Pocket Whiskey Fellas, Bayou Brothers, the Coffee Club Sextet @ Tio Leo's
Michele Lundeen @ Humphreys Backstage Live (5 p.m.)
Viva Santana @ Humphreys Backstage Live (9 p.m.)
Tom Price & the Stilettos @ Navajo Live
Wasted Penguinz, Volldrauf @ Bassmnt
Cubicolor, Endo @ Bang Bang
Mark Farina, Chris Herrera, Chrysocolla @ Music Box
Carnage @ Omnia
DJ Drama @ FLUXX
Let's Get Weird ft. Tara Brooks and Christopher James @ Spin
Grand Sonic Theory, DJ Ms. Mo @ V Lounge, Viejas Casino
Tech Support ft. Delos, Donald Thump, Mr.Smith @ Kava Lounge
Rosemary Bystrak is the publicist for the Casbah and writes about the San Diego music scene, events and general musings about life in San Diego on San Diego: Dialed In. Follow her updates on Twitter or contact her directly.