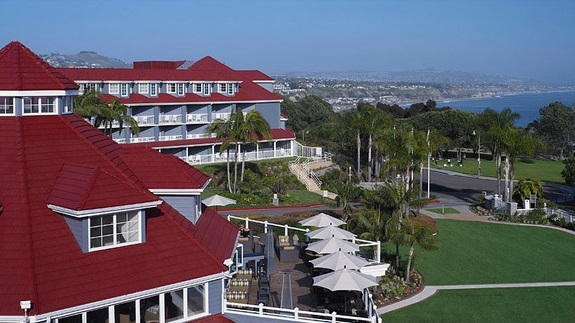 THE SEASONAL COMFORTS OF HOTEL: We love to think cozy thoughts of home, particularly during the twelfth month of the year, when every third commercial shows family members walking through the door and hugging various relatives, all before the group sits down to the perfect meal or perfect present-opening session. But being at home isn't strictly necessary for making the most of the Noel. Hotels famously do up the comforts of the season, and even if they aren't physically as cozy as a small den -- some lobby ceilings are quite high -- that coziness is very much implied by the full complement of extras and additions the hotel offers during December. The Laguna Cliffs Marriott Resort & Spa is doing the Christmassy complement thing, with one new bonus: It's walking distance to Dana Point's first-ever IlluminOcean, the the glowing light show that's all about LED-cool creatures of the deep. That might be enough of a reason for any holiday buff to make a date with the Pacific-snug hotel, but, as mentioned, the Christmas-cozy roster at the Laguna Cliffs is jam-packed. Starting with...
BREAKFAST WITH SANTA: Be sure to have that list written for the Man in Red prior to Sunday, Dec. 14, when families gather at the resort to sup and sit with Santa, talking wishes and that whole naughty-nice deal. Adults pay $35 and kids get in for $15. Leading up to the 14th are S'mores and Stories -- that's on the 12th and 13th -- and the IlluminOcean Package, which includes an overnight stay, a blanket, and two mermaid-themed glow-in-the-dark cocktails.
WAIT... Why have we never had a mermaid-themed glow-in-the-dark cocktail before? Truly a glaring omission on our bucket list. The Laguna Cliffs Marriott, by the by, is billed as "the only hotel in walking distances of IlluminOcean." If you've been wanting to take in Dana Point's glittery 40 Nights of Lights, and score a glow-in-the-dark libation of mermaidian proportions, this, Christmas revelers, is your chance.
Copyright FREEL - NBC Local Media