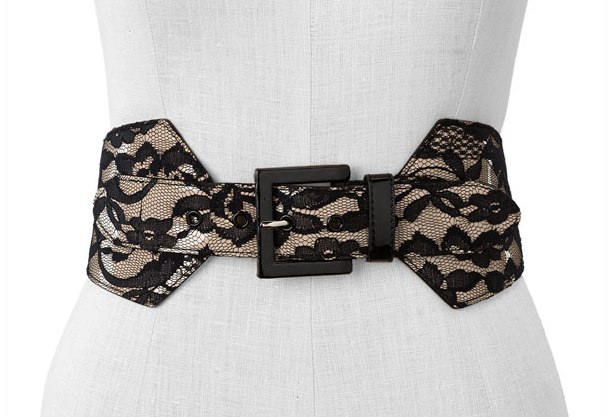 A CINCH: Head to toe lace can be a little much, so meet in the middle with this lovely Linea Pelle High Waist Belt from Nordstrom ($42). The nude patent leather belt is overlaid with black lace, giving it polish and prissiness all at once.

BFF: Satin and lace go together like peas and carrots, only prettier. The silky nylon Lace Tiered Cami from 7 for All Mankind ($189) puts a lovely, flowy spin on the combination with a delicate neckline and slightly angular layers. Find the pale peach version at Macy's in Fashion Valley Mall.

DIP YOUR TOE IN: An easy, understated way to incorporate lace into your wardrobe is to put it near your feet. Guess's Carrielee heel ($99) is a pointy-toed nude and black stiletto with subtle sex-appeal. Grab them at the Guess store near you.

IT'S SO HER: Betsey Johnson never gives lace a rest, but in a good way. While she has many dolled-up dresses to choose from, the 40's Frock Slip Dress ($315) with lace detail is versatile, wearable and just plain pretty.

B THERE: Arden B is STILL having their buy-one-get-one 50% off sale, so you have more than one reason to swing by and check out this Tiered Lace Print Skirt ($44).