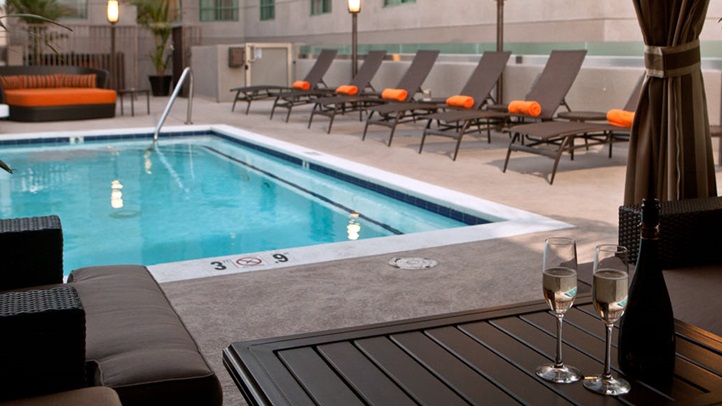 WALK IN LA: There are at least a dozen wisecracks associated with the unwalkability of Los Angeles, and a few songs and essays, too. Everyone's in love with their car, no one takes the train, and hopping from shop to shop requires returning to your vehicle, even if the places in question share the same block. It's all stuff and nonsense, of course; the City of Angels brims with neighborhoods that are prime for strolling, from downtown to the Hollywood Studio District, and one of the spots in the top ten happens to be Mid-City West. It's plunk in the middle of the action, is why, and it also happens to be home to The Orlando, a boutique hotel that serves as an anchor of sorts to West Third, one of the restaurant-iest, window-shop-iest stretches in all the city. Magnolia Bakery, the famous pastry place out of New York City, is The Orlando's neighbor across the street, and a few blocks to the east? The Grove, a outdoor shopping center that's a solid nexus of starsightings. Between Magnolia and The Grove small shops abound, covering specifics from stylish travel to upscale vintage. To celebrate this walkable area, The Orlando has a few stayover packages, one that could appeal to canine lovers looking to land in LA at a dog-nice, dog-strollable spot. If that's you, check out The Orlando's...
BOW-WOW PACKAGE: It's starts at $299, and includes a treat, an Orlando waterbowl to pack and keep, and doggie daycare in the area, including pick-up and drop-off. Of course, you don't have to go the daycare route if you want your wagger by your side as you saunter down West Third, a thoroughfare that sees plenty of Fidos each and every day. If you're not traveling with your little fluffster, there are other packages and special stays, like the American Girl Page (yep, there's an American Girl at The Grove) and a Galentine's Day Package, too, for pals to enjoy (in addition to the on-site pool and spa).
SOME ROOMS... do have a view of the Hollywood Sign -- you're not to far from Tinseltown on West Third -- and there's the roomy Entertainer's Suite, which includes a balcony, the better to watch the scene on West Third, as well as people entering The Churchill, the glam gastropub inside the hotel. Can you really walk in LA? Well, yes, in certain pockets that's pretty much all you'll want to do. Zipping about the larger city is another matter, but West Third is certainly on its toes when it comes to getting out and walking.
Copyright FREEL - NBC Local Media