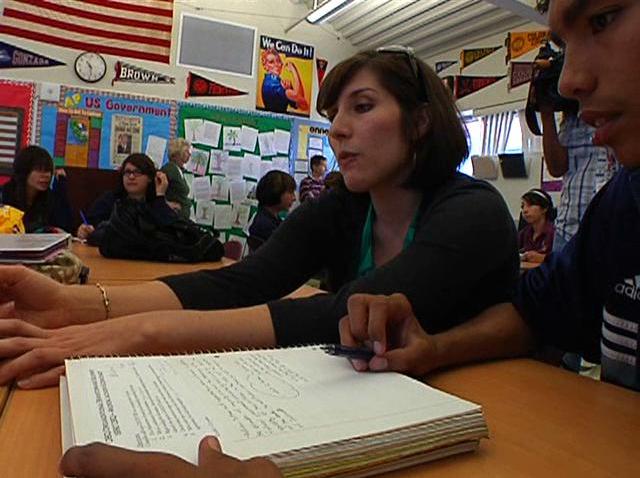 Despite larger class sizes and cutbacks in resources, two San Diego teachers managed to motivate, inspire and educate their students in such a way that they have been selected as "best of the best."
Teachers Kelly Kovacic and Melanie Tolan are two of the California Teachers of the Year for 2010.
State Schools Chief Jack O'Connell visited Kovacic's classroom at The Preuss School in La Jolla, Calif. Thrusday to announce the finalists.
"The absence of adequate funding from Sacramento has presented many, many hurdles," said O'Connell. "Yet these professional educators as well as all of our teachers really have been able to meet the challenge."
Tolan and Kovacic join three other educators from other parts of the state including Amber Carrow from Riverside, Kathy R. Marvin from Irvine and Valerie Ziegler from San Francisco.
"All these honorees really do see the promise in the future," O'Connell said.
Kovacic teaches Social Studies at The Preuss School, an intensive college preparatory school for low-income student populations.
"They come to us and they enter our classes looking for the support and the belief and the necessary help to get through and break that cycle of poverty," said Kovacic. "These students and students sitting in the classes throughout the state of California are our future leaders and we cannot let them down."
Tolan teaches English-language arts, History, and Physical Education at the Sarah Anthony School. Her students are in the custody of Juvenile Hall.
"Some people say there are kids who can't achieve or there are kids who are lost causes. But I think I disprove that every day," said Tolan.
"Every child can leave our schools with a diploma ready for college or the workplace. There are no lost causes when it comes to children," she said.
Kovacic was selected as California's nominee for the prestigious National Teacher of the Year competition and will compete with other teachers from around the nation.
Last year's California Teacher of the Year was also from San Diego County. Alex Kajitani, aka the Rappin' Mathematician, teaches at Mission Middle School in the Escondido Union School District.
In 2008, two teachers were named as finalists. Tamara "Tammy" Reina taught English and U.S. History at East Mesa School in San Diego and Andee Aceves taught third grade at San Altos Elementary School in Lemon Grove in the Lemon Grove School District.