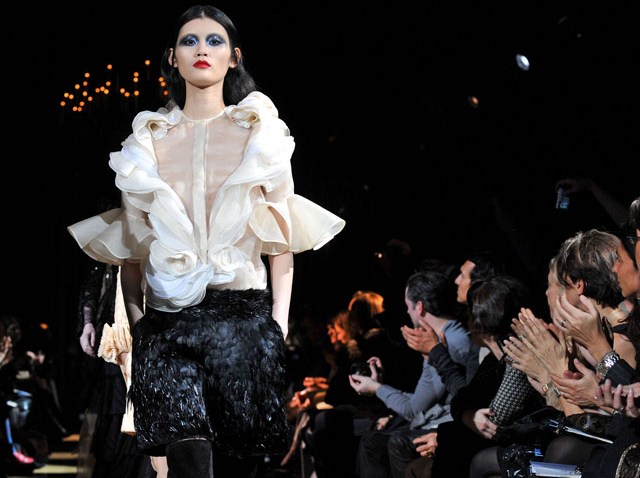 La Jolla may not be the first city that comes to mind when you think of cutting edge fashion, but the La Jolla Fashion Film Festival hopes to place La Jolla on the map alongside Paris, New York and London.
The La Jolla Fashion Film Festival (LJFFF) slated for this weekend promises to be the digital fashion event of the year. Films by directors Karl Lagerfeld, Christian Louboutin, Bruce Weber and Marc Bouwer will be part of the festival running April 23-24.
"For the first year the film festival is geared as an industry event, modeled along the lines of New York fashion week," explained Fred Sweet, producer of LJFFF.
Expect a guest list of agents, industry experts, directors, actors, models and fashionistas with celebrities to follow in years to come.
As the world continues to shift to digital, the fashion world is trying to keep up by creating new marketing techniques and art forms to reach their audiences. Bloggers are now in the front row at New York's Fashion Week, runway shows are streaming live and designers are moving quickly to keep up and revolutionize the digital potential for fashion.
Sweet researches new digital trends in fashion and was noticing a lot of these short fashion films. "There are thousands of these films out there, so I thought why not choose the best ones and make a party of it. That's when I heard about Paris's film festival, and decided to expand the event," he said.
The first fashion film festival, A Shaded View on Fashion Film, was held in Paris Sept. 2009. "We had already started planning ours when we heard about Paris," Sweet said, "Subconsciously people are connected, we seem to have the same ideas worldwide."
As a member of the model industry for many years, Sweet was on the lookout for something new and different, but still mainstream. The Fashion Film Festival fit this bill perfectly. With so many major brands creating these films, an event like this would be edgy, but not too radical.
"Our goal is to make La Jolla Fashion Film Festival an international event," Sweet excitedly proclaimed. The event hopes to become internationally renowned in the fashion industry as something that people will fly out to see--similar to that of Paris and New York's more traditional fashion weeks.
"They say that location makes the event," explains Sweet, who wasn't initially sold on La Jolla. But after talking to designers, directors and others in the industry, La Jolla emerged as the location of choice. Sweet was surprised to hear that La Jolla had such a strong international brand. Location is key to making an event like this an international phenomenon.
Saturday night's film viewing will be located outdoors with a picturesque beach backdrop--quite appropriate for the striking La Jolla coastal venue. The screen will be tucked between the cove, downtown lights and surf--the perfect southern California touch of glamour for the event.
In explaining how they modeled the Saturday night show, Sweet said, "Think Academy Awards, we will have two presenters introducing the director and the film." Since the films are all short, ranging from two to ten minutes long, they will all require a brief introduction to give the films context.
While making the criteria to choose the films, the La Jolla Fashion Film Festival chose story line films, rather than art films or dark films. Sweet said, "We thought our audience would appreciate the story line films more."
The event will feature about 21 actual short films and 16 directors including Karl Lagerfeld and Christian Louboutin. Five directors will be attending the event—Janet Pytowski, George Manzanilla, Carl Cortes, Robertino Fonseca and one who wishes to remain unconfirmed until the actual event.
Friday night will kick-off the festival with three screens simultaneously showing the short films in a La Jolla art gallery. Saturday's daytime events will be held at the La Jolla Cove Bridge Club. Industry guests and fashionistas will be attending seminars and panels led by industry professionals during the day, with the highlight of the festival in the evening.
Keeping in theme, the event will end with a glamorous party fitting of a fashion first. Look out San Diego; La Jolla may be joining the ranks of Paris with this revolutionary digital fashion delight.