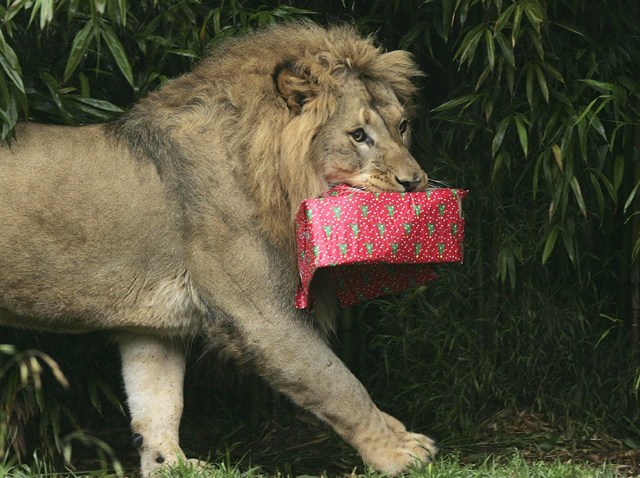 There is no need to search the city for family-friendly, holiday-inspired events this year. Begin and end your search at one of San Diego's most famous landmarks, the Zoo, as it transforms into a winter wonderland this year. From December 11-January 2 (Christmas Eve excluded), there will be no shortage of holiday-themed, animal-involved activities.
Try the Asian Passage for the Jungle Bell Jump or Elephant Odyseey featuring all things grey and ginormous, and Urban Jungle where you will cross paths with "Jumping, Jamming Elves." To wind down the day, stop by the Children's Zoo Clarke Theater for Dr. Zoolittle's 'Twas the Night Before Christmas. Perhaps you'll go home with a new member of the family. You can "Adopt an Animal for the Holidays" on December 11-12, 17-23, 26-30 and January 1-2.
Are you and the fam up for a challenge? Find all five bell-shaped "Jungle Bells" hidden throughout the Zoo to win a Backstage Pass for four. All you have to do is post the pictures to the Zoo's Facebook page or Twitter wall to be entered to win.
Find a full list of Jungle Bell activities, here.
Decisions, decisions. Purchase a ticket, or two. Here are the packages:
1-Day Pass is $37 for adults and $27 for kids
2-Visit Pass is $70 for adults and $50 for kids. It also includes a pass to the Wild Animal Park
3-for-1 Pass is $121 for adults and $99 for kids ages three to nine. You'll receive entry to the Zoo, Wild Animal Park and SeaWorld for unlimited entry for 5 days.
Southern California City-pass costs $269 for adults and $229 for kids. This includes a 1-Day Pass to the Zoo or WAP, SeaWorld, Disneyland resort Park Hopper and Universal Studios. The time frame to use the pass is two weeks.