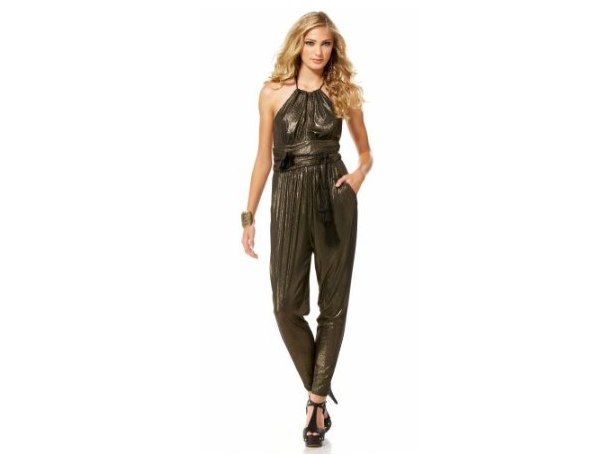 WORK: When it comes to dressing for work, the fewer brain cells, the better. Look fantastic even on the most sleep-deprived mornings with a pretty blue jumpsuit like this layered collar version from Robert Rodriguez at Nordstrom ($385).

WEEKEND: Loose, forgiving jumpsuits are what Sunday morning dreams are made of. Step into the Ankle Tab jumpsuit at Forever 21 ($28) and dress it up or down with layered long-sleeves, chunky necklaces and your choice of heels.

DINNER: Whether you're meeting the girls or making an impression, you'll meet your mark with the Rachel Roy signature jumpsuit at Macy's ($78). The light, shimmery material is elegantly draped and ready to pair with this season's blues, exotic skins, bright peaches and soft neutrals.

CLUBBING: Accentuate your every move with a slinky one-piece in sultry shades. The Bebe Glitter Halter Rope Jumpsuit ($98) in deep gold is gam-friendly and full of va-va-voom, but could be surprisingly toned-down under a fitted black sweater and dark booties, too.