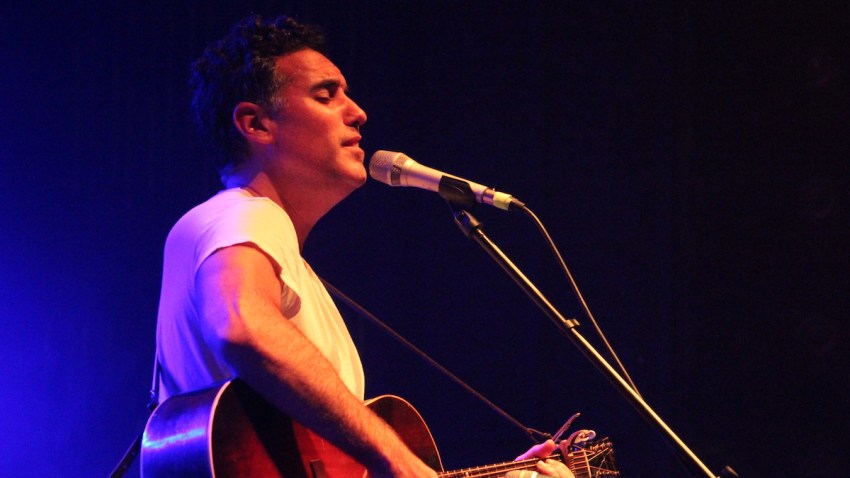 I love my share of singer-songwriters, and you really can't go wrong at the
Belly Up
tonight with some of the finest -- not to mention nicest -- ones in the biz. Joshua Radin brings breathy soundtrack-friendly tunes that will warm the heart, and Cary Brothers, with his wistfully moppy hair and irresistable eyes, will make you swoon at his stylish guitar plucking and songwriting perfection. Lily Kershaw rounds things out with sweet vocals and powerful female energy. It's a definite win for the night if you like acoustic music enveloping you like a warm blanket. Around town, Croatia's 2Cellos play Pechanga Arena, Lee "Scratch" Perry brings his dub wizardry to House of Blues, and Danko Jones and Nashville Pussy play a $5 show at the Observatory.
Sunday, Feb. 10:
Joshua Radin, Cary Brothers, Lily Kershaw @ Belly Up
2Cellos: Let There Be Cello @ Pechanga Arena
Lee "Scratch" Perry: "Blackboard Jungle" Anniversary Tour, Boostive @ House of Blues
Danko Jones, Nashville Pussy, Prima Donna @ Observatory North Park
Jonathan Walsh and Friends @ Sycamore Den
Funk Jam @ Panama 66 (5-7 p.m.)
The Sun and the Mirror, the Mandoshanks, Blind Mountain Holler @ Tower bar
M.O.M presents Former, Smiile, Runnner @ Space
Front Left, Church (Rooftop Roots After Party) @ Blonde
Graham Gillot Duo @ Crossroads, House of Blues (free)
North Coast Strings Concert @ Museum of Making Music
Shen Yun @ California Center for the Arts, Escondido
Djgirlgroupgirl, Chloe Lou & The Liddells @ Bar Pink (5 p.m.)
Rat Sabbath with DJ Ratty @ Bar Pink (10 p.m.)
Keep It on the DL @ Martini's Above Fourth
Salsa Sundays @ Moonshine Beach
Ristband @ Winston's (5 p.m.)
In Concert Variety Show @ The Merrow
The Night Howls @ Pour House (9 p.m.)
Lulu & the Black Sheep @ Pour House (6-8 p.m.)
Whit Aadland @ Pour House (1-4 p.m.)
Pants Karaoke @ Til-Two Club
Salsa Sundays @ Queen Bee's (all ages)
Reggae Sunday @ U-31
Uptown Top Ranking with Tribe of Kings @ The Office
Singer Songwriter Night @ Navajo Live
B-3 Four: Aubrey Fay Tribute @ Humphreys Backstage Live (7 p.m.)
Rooftop Roots 002 with Lee Reynolds, Psychemagik, Kevin Anderson, Matt Egbert, Fraud @ Spin
Beach Party Sundays @ 710 Beach Club
Gasolina with Kid Wonder & A Boogie @ El Dorado
Rosemary Bystrak is the publicist for the Casbah and writes about the San Diego music scene, events and general musings about life in San Diego on San Diego: Dialed In. Follow her updates on Twitter or contact her directly.