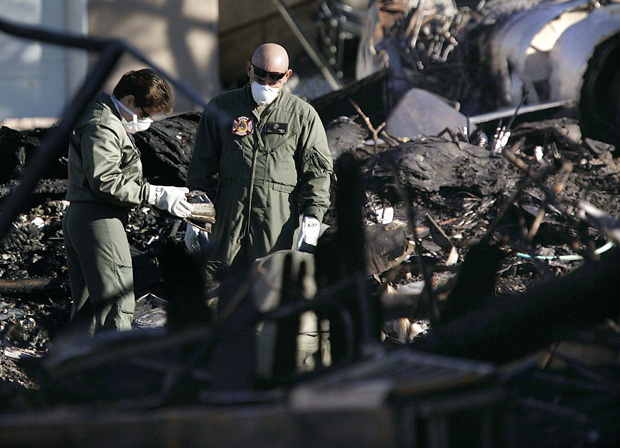 It could take up to two weeks to clean-up the neighborhood where a military jet slammed into a home killing four family members, said military officials Wednesday. The military initially said the clean up would take five to seven days, but now a spokesman says it could be much longer.
Crews brought in heavy equipment Wednesday to move the aircraft wreckage and other debris that is scattered across Cather Avenue. Investigators from the Air Naval Safety Center were also on scene and say all precautions must be taken.
"The aircraft is basically made out of carbon fiber and fiber glass. It poses a little bit of a health danger, there are fibers, particles that are fine enough that they can affect your respiratory abilities," Marine Corps spokesman, Major Jay DeLarosa said.
Six families are still displaced because of the crash and its aftermath. The Red Cross is assisting them with hotel accommodations.
"We're working with folks from the East coast, from the Department of Navy in a cooperative effort to find the best route to take care of those families that need compensation, " DeLarosa added.
It could take up to a year before they determine an exact cause of the crash, but he says initial reports of engine failure are accurate, DeLarosa said. He also says the pilot who ejected safely is at home, but will be placed on administrative leave until the investigation is complete.
A mother, grandmother, toddler and newborn, all from the same family, were killed when the F/A-18D Hornet crashed into their home. Two homes were destroyed and three others damaged in the crash. Four vehicles were burned.
For updated information, to report debris or to file a claim, displaced residents can visit miramar.usmc.mil.
Copyright AP - Associated Press