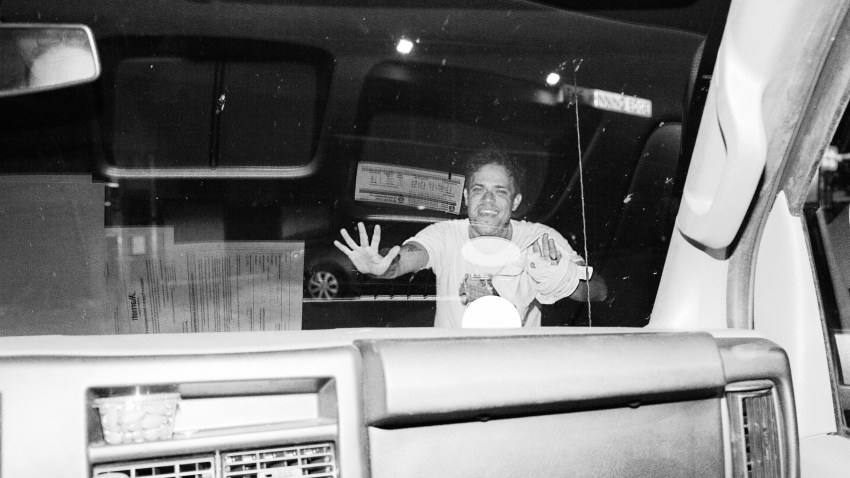 When I get Jeff Rosenstock on the phone one recent afternoon, I instantly apologize for whatever gibberish may pour out of my mouth during our conversation. Having just been to the dentist earlier that day, I explain that I'm working through a wisdom tooth infection and admittedly pretty groggy -- "please bear with me, buddy."
"Dude, I haven't been to the dentist in straight-up 15 years," he says. "I'm so f---ed."
I literally feel his pain.
"I know there are problems and I have to go," Rosenstock continues. "There's a dentist that opened up across the street from me, that's offering like a $50 cleaning and X-rays -- and I still can't do it. I'm so f---ed. We're all getting older. Things start hurting more. What the hell, human body?" [laughs]
Teeth aside though, Rosenstock has seemingly found the fountain of youth. Not only is the affable diehard DIY ska/punk enthusiast from Long Island releasing the best music of his career (prior bands include Bomb the Music Industry!, Pegasuses-XL, and the Arrogant Sons of Bitches), he continues to approach his songs the same way he always has: "Make 'em all sick."
Rosenstock explains: "I'm always just trying to write good songs and I hope they're good. Taste is subjective. It's on you. It's on somebody else hearing it. You don't know what makes a song f---ing good for anyone else. It doesn't matter unless, when you're done, you like it. People occasionally ask me 'What's your favorite song [that you've written]?' And I'm like, 'I don't know! I like 'em all!' Favorite song? I don't have that. I try to make them all songs I would like."
In a surprising move that certainly cured more than a few NYE hangovers, Rosenstock's latest album, "POST-," dropped squarely on the morning of Jan. 1, 2018 as a free download via his Bandcamp [Listen/pay what you want here]. Good timing, if you ask me.
"I feel like it's funny you say 'good timing' because I feel like I planned it that way particularly because it was bad timing," he says, laughing. "You know it's like 'F--- it, man, no one else is gonna put out a record on New Year's Day, let's do it.' The record felt like a New Year's Day record to me, which is intangible, crazy weirdness but yea, it just seemed like a logical thing to do."
With shades of a much more ambitious "Pinkerton," "POST-" is a sprawling, cathartic statement of breathless, raw, anthemic steamrollers -- and an instant punk/pop classic. And, oh yea, it debuted at No. 1 on Billboard's Heatseekers Albums chart. Not that it's some definitive measure of success or something, but, hey, that was a nice surprise.
"It was incredible," Rosenstock enthuses. "I think about being on a Billboard chart, it's like 'Oh s---, people like this record! That's cool!' I don't expect it's going to be there for my entire life. [laughs] I kind of just look at it like a goof. Like this is a f---ing crazy thing ... It's great. I'm just happy that me and my friends are playing music and touring around and we didn't have to compromise anything in order to do it."
I ask Rosenstock if he feels like "POST-" is his most "realized" effort thus far (which in hindsight is a totally cringeworthy 'music-critic' thing to ask; sorry, Jeff).
"I don't know if it's my most 'realized' but it's my favorite one. Or else I wouldn't have done it. [laughs] I feel like you gotta make your best record or else why are you making a record? Like, get back in there and make it better until it's your favorite record, you know?"
Make 'em all sick, indeed.
Jeff Rosenstock and his excellent band perform at SOMA on Saturday, Feb. 17, for the all-ages You Are Going to Hate This Fest III featuring the Frights, Together Pangea, Diet Cig, Hunny and many more. Tickets are available online here.

Dustin Lothspeich books The Merrow and runs the music equipment-worshipping blog Gear and Loathing in San Diego. Follow his updates on Twitter or contact him directly.