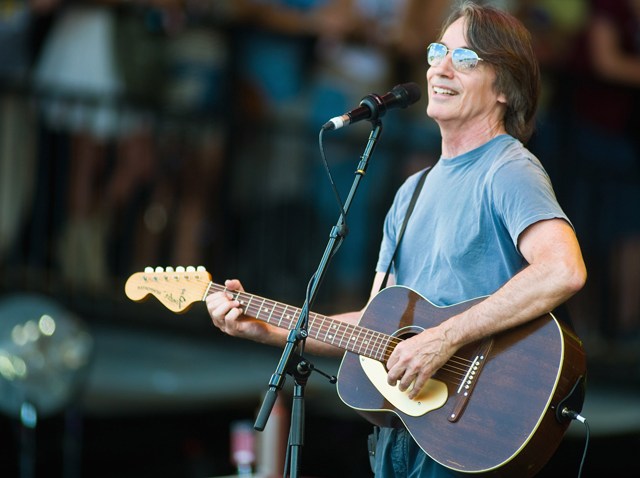 Cheyne Johnston's got friends in high places. And right about now, he needs them -- and you, too.
On April 9, singer/songwriter Jackson Browne and folk musician Joel Rafael of North County, both friends of the Johnston family, will join Jack Tempchin (of Eagles' songwriting fame, also a North County resident) at the California Center for the Arts, Escondido, for what's been dubbed the Circle of Friends benefit concert to raise money for Johnston, who suffered a traumatic brain injury nearly a year ago.
Johnston, 35, was riding motocross in Lake Elsinore when the accident occurred; he also separated his shoulder and suffered rib and pelvic fractures. He has two young children and is currently in the care of his parents, Karen and Charles Macbeth.
"The reality of caring for a person with a severe traumatic brain injury is a daunting one," Karen said in a press release. "At this point in our journey, Cheyne is not ready for outpatient services, and we've found there is a lack of resources. Facilities are limited and expensive, and generally not covered by insurance. Finding experienced caregivers, therapists, doctors and social workers who have the proper education and ability to care for brain injured individuals is challenging."
It's for this reason that Johnston's circle of friends -- Browne, Tempchin and Rafael -- have banded together to raise both funds for his recovery and awareness of the affliction through the Cheyne C. Johnston Foundation for Traumatic Brain Injury Recovery and Education. The foundation was created to provide not only help and resources to other families dealing with traumatic brain injuries but also training for those who want to work in brain-injury recovery and care.
"Through the years [the Macbeths] have been very supportive of my efforts on behalf of music education in South Central Los Angeles," Browne said. "Now it is my turn to be supportive of them. What has happened in their family could happen in anyone's family, and it is a very simple and direct expression of our friendship, and my high regard for them, that I am helping to organize and perform at this concert."
Tickets for the event in April range from $45 to $153. VIP packages are also available for $75-$500 and include such perks as premium seating, a pre-show reception, a post-show meet-and-greet, albums from the musicians and more. Passes and/or packages can be purchased here.
Tax-deductible donations for Cheyne's recovery can also be made directly through the Guacamole Fund.
Jackson Browne, Jack Tempchin and Joel Rafael perform at the California Center for the Arts, Escondido, on Thursday, April 9, at 8 p.m. Proceeds from the Circle of Friends concert benefit Cheyne Johnston and the Cheyne C. Johnston Foundation for Traumatic Brain Injury Recovery and Education.

Hannah Lott-Schwartz, a San Diego native, moved back to the area after working the magazine-publishing scene in Boston. Now she's straight trolling SD for all the music she missed while away. Want to help? Hit her up with just about anything at all over on Twitter, where -- though not always work-appropriate -- she means well.