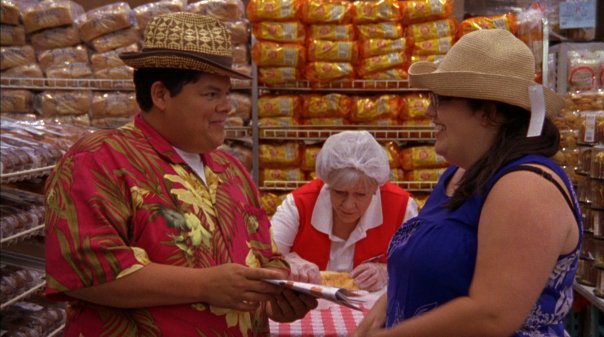 San Diego Film Festival, Day 2: One of the sponsors of this five-day event is Patron. Ergo, tequila is served exclusively in the top-floor VIP room of the Gaslamp Theater. It's handy to have a bar in a movie theater. But the bartender—same blonde-haired guy as the night before—now knows my usual is Patron and pomegranate.
The Thursday night independent movie offerings all have a local connection. These shorts—ranging in time from a three-minute animated piece to a 17-minute comedy—were shot either in San Diego or done by someone from here or lives here.
Nine movies are scheduled to be shown over the course of an hour and a half. These Local Love shorts actually take longer than that due to a technical glitch midway through a dark fantasy called "Mended." Once the actual tape is mended, we watch the whole nine-minute noire piece again.
The star of Local Love is a funny film called "Love In Bulk." It's the story of Cliff and Jane (Aris Alverado, Rakefet Abergel), two overweight shoppers who fall in love at Bulk N Buy (read: Costco). Their relationship runs a hilarious full course all in one shopping trip.
"Love In Bulk" is co-produced by Andrew and Matt Rubin of Encinitas and Carlsbad. Andrew wrote and directed the film. I ask him what the Costco people think of the movie. "They love it," says Andrew. "They don't think we are making fun of them. They love the scenes with the employees giving out the food samples."
The SDFF is the first festival the Rubins applied to. Based on feedback from audiences, they're going to see where the festival circuit can take them.
After viewing all the shorts, I follow the Local Love crowd to a Filmmakers' Social at Lucky D's. My festival pass entitles me to two drink tickets. Yes, Patron is the featured drink here, too. A couple Margaritas later, I'm ready to get home and rest up for Day 3's movie offerings. Perhaps I'll pass on the Patron this time. Pomegranate on ice, please…
Ron Donoho is a regular contributor to NBCSandiego.com, editorial director of "Pacific SD" magazine and a contributing editor to sandiego.com. His Web site (sandiegoDTOWN.com) is dedicated to news, sports, culture, happy hours and all things downtown.