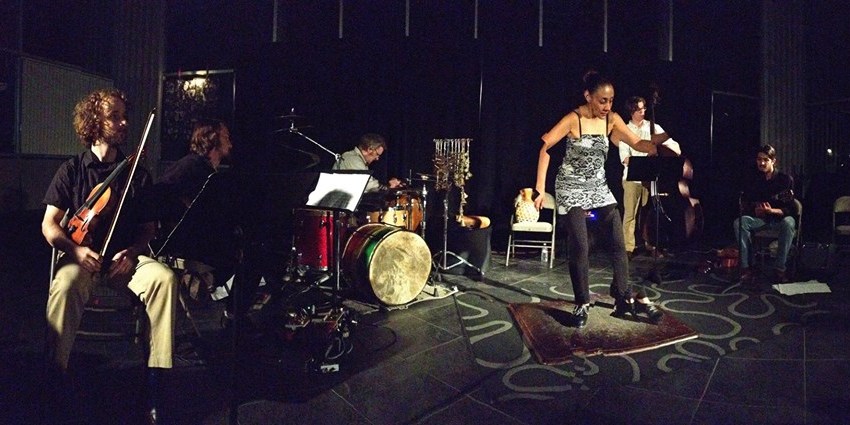 Nathan Hubbard wears a lot of hats in the local music community. The 2014 SDMA Best Jazz Album winner is a drummer fluent in everything from metal to free jazz, and he's also a vibraphonist and a prolific composer.
Hubbard had something special in mind as he prepared a batch of new tunes for a brand new ensemble making their debut on May 23 at Dizzy's, which also served as a celebration of his 39th birthday.
The band is called A Thousand Butterflies, inspired by the work of the Spanish poet Lorca, and, like many of Hubbard's projects -- this one escapes easy categorization -- call it chamber/flamenco, perhaps. At any rate, the unusual lineup is comprised of Louis Valenzuela and Dillon Casey on guitars, Kris Apple on violin, Mackenzie Leighton on bass, and the remarkable Claudia Gomez on percussion. Gomez is a virtuoso tap dancer, and about half of her contribution came from her feet, with the remainder devoted to more standard percussive fare, everything from maracas to drum kit to guira.
"Weather Vane" was a strong opener, gliding on the pulse of Leighton and Hubbard's cowbell and featuring a solid, reverberant solo from Casey. Suddenly, Gomez stood up, put her guira down, and proceeded to deliver a killer spot that sonically fell somewhere between that of bongos and castanets -- all with her feet of course.
Gomez and Hubbard switched chairs, with the former assuming the drum throne while the latter manned a strange looking stick with many bells affixed for "Cross-eyed Strangers," a strutting vibe that saw Apple careening straight into the "out-o-sphere" while Valenzuela's contribution was limber and warm.
"A Thousand Butterlies," the band's namesake tune, featured a potent blend of melody and Cuban rhythms, plus a Bill Frisell-ish Casey solo and a violin essay with wide, yearning vibrato.
My personal favorite was "Blues for a Sleeping Mirror," which began as a duet between Hubbard's brushes and the taps of Gomez before branching out into a strange mix of Django Reinhardt and Oliver Nelson, complete with a slinky Leighton solo and a bluesy, swinging showcase for Valenzuela.
The band concluded with the spooky, bass-led theme of "Against the Black Spider's Kiss," where Gomez's tap-rhythms proved to be absolutely core to the proceedings as things veered from a Mahavishnu concept to a Paul Winter Consort feel united by Hubbard's martial cadences and elevated by Casey's Metheny-esque guitar solo.
Very creative and "out-of-the-box," Hubbard's sense of melody and form always keep things interesting. Look out for future sightings.

Robert Bush is a freelance jazz writer who has been exploring the San Diego improvised music scene for more than 30 years. Follow him on Twitter @robertbushjazz. Visit The World According to Rob.