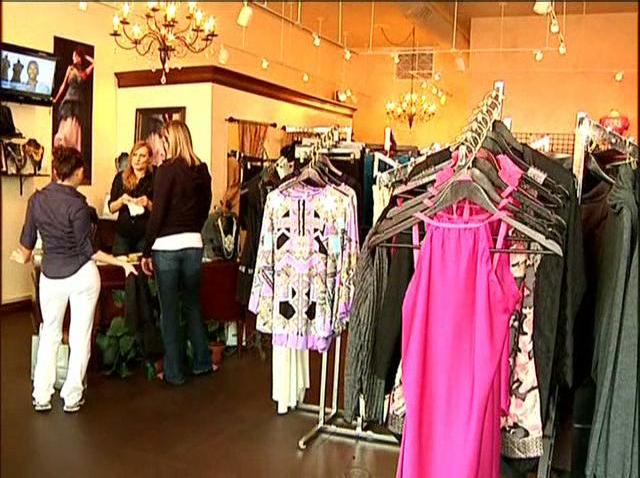 Racks of beautiful intricate knits hang neatly in a polished studio. The wooden floor echoes each customer's steps as they peruse through the items. Off in the distance, a slew of colorful thread dangles from a sewing machine.

No, this is not a showroom in New York. Not Paris. Not London.
Actually, it's the current scene in San Diego. Backed by an arsenal of ready-to-wear clothes and couture gowns, local boutiques are staking their claim in the fashion industry and making a statement about the modest coastal town's take on fashion.

"It doesn't matter where you're coming from. As a woman, you want to be looking beautiful," says local designer Gordana Gehlhausen who sometimes works out of her shop GOGA by Gordana. "It's such a nice touch for people to see actual designers making (clothes) right on the spot."

"There is a lot of fashion here," adds Jesus Estrada, a local designer based downtown. His designs consist of metal details and have edgy punk-inspired elements. "A lot of kids are scared to take risks, but that's one of the things that I would like to bring back to San Diego."
Thus, it was inevitable that San Diego would make another appearance on the fashion podium.

On March 19, both local designers and Project Runway alums Gehlhausen and Estrada will be featured in LA fashion week. They will debut their fall collections during the Project Ethos event in Hollywood, making it a testament that San Diegans really do not need to travel far to experience high fashion and find the latest trends. They can have it all without even stepping outside county lines.

"I don't want to look like a soccer mom. I want to have flair, I want to have fashion and I want to be youthful but tasteful. So my idea is to bring something that can be given to both," says Gehlhausen. "Why not have the opportunity for women to come to San Diego in their local boutiques, support a local business and have something totally unique."

Having kept a relatively low profile in the fashion scene until recent years, expect San Diego to have more four-inch stiletto pumps and expertly tailored dresses cropping up in a sea of sand-covered Rainbow sandals and denim skirts.

"I really do believe in San Diego, that the city is going to be big in fashion in a couple of years. It just takes the right people to do it and make it, and that is why I'm still here," says Estrada.