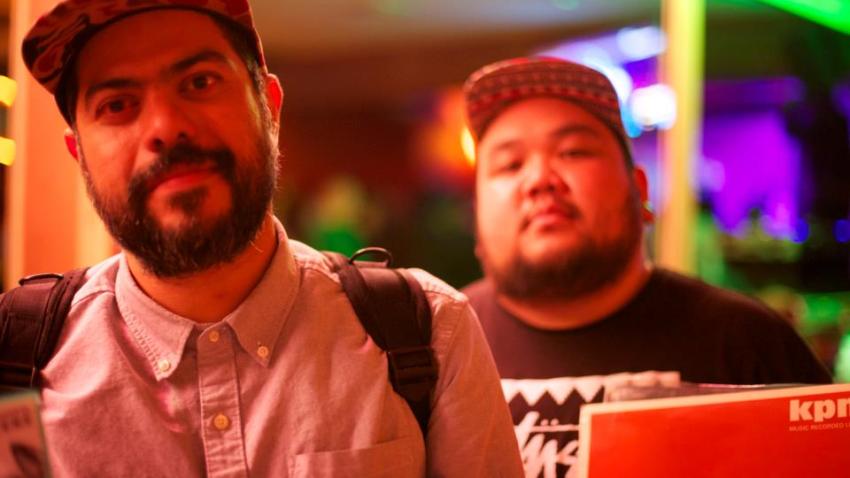 Rap music, in large part, is about rappers rapping: Frontmen -- and women -- with personas that pack concert halls, sell out arenas and, at their very best, inspiring audiences.
But for every Snoop Dogg, there's a Dr. Dre -- some producer or beat junkie who obsesses over kick drums, samples and snare claps. Some choose to go it alone, while others, with a more collective mindset, form production teams.
San Diego's Hellnote crew is exactly that: a collective with no single person in charge, which has been churning out quirky beat tapes since early 2013. These are limited runs of instrumental cassettes full of off-kilter beats and cryptic inside jokes. On Christmas Eve, they released their latest installment, "Hellnote Presents: The Compilation."
Clocking in at about 30 minutes, Hellnote's sixth release, in physical form, is for the collectors. In all, 50 cassettes -- 25 purple and 25 pink -- were dubbed, with handmade labels on high bias tape.
"There's a culture in it," Hellnote co-founder and producer DJ ADAMNT said of the group's tape format. "It fits the genre ... It looks cooler than a CD [and] has a little more to it."
As is true with many groups, responsibilities are delegated by skill set, with ADAMNT and his partner, Artoo, overseeing the process of tape duplication, distribution, etc. Artoo, who also works as a tattoo artist, creates the cassette cover art. ADAMNT said that he has had a hand in everything that has his name on it but insists, "Whether it be drums or the sample, [we] try to make it a real collaboration."
That respect for collaboration gives the compilation a genuine sense of unity. There are a host of names and credits in the liner notes, but despite the numerous contributors, Hellnote's latest release is seamless. From one song to the next in-house producer to guest, it's all fluid and cohesive, front to back, start to finish. They get right to it; the songs don't linger or take too long to develop, and while the longest track is four minutes-and-change, the average length is just under two minutes.
While it has all the elements of a traditional rap tape, with featured vocalists who deliver strong cameo performances, at its core, "Hellnote Presents" is about the producers -- their beats, their sound and their vision.

J. Smith, aka 1019, is a San Diego native, rap fan and one half of the rap duo Parker & the Numberman. You can follow him on Instagram at 1019_the_numberman or on Twitter